Are You Into Online T-Shirt Design Business? Try PrintPLANR Online Design Tool To Provide Custom Designs
Online Design Studio (ODS) is a designing tool that lets your customers edit, design, and personalize their orders. PrintPLANR's highly customized t-shirt design tool is accessible from any device with an active internet connection. The print software comes with various interactive modules and customizes products like t-shirts, caps, bags, and mugs, including promotional products.
Online T-shirt Design Tool is a One-Stop Solution with In-Built Features that Simplifies the Print Business Process
The T-shirt printing software allows users to edit, approve and order customized print items online. PrintPLANR is the perfect go-to print solution if you have a custom T-shirt business. The software helps to meet the growing demands of customization.
The solution is highly modular and can be easily integrated with an existing e-commerce site or print shop. Also, the printer software will streamline and automate your workflow while you relax. The software is advantageous to both admins as well as end-user.
As an admin, you can build editable templates, define your font (upload your font) and color, shrink/truncate the text if required, add images, and then approve orders.
As an end-user/customer, you can upload background files, edit products, upload images, order, customize orders, and more. Design effortlessly with innovative solutions for products like t-shirts, mugs, caps, and promotional products.
PrintPLANR has years of expertise developing ultra-modern and elegant business solutions for modern print businesses. The easy-to-integrate solution will streamline your workflow and increase sales without hidden costs.
The aspects of an online t-shirt design tool incorporated with PrintPLANR are suitable for B2B and B2C storefronts, and you can implement multiple add-on modules with utmost perfection.
The customers can feel completely at ease with creating as many storefronts as they want because the software is highly configurable and scalable, and the customizable solution suits all your business needs.
PrintPLANR's Web-to-Print offers the Online Design Studio (ODS) tool to help customers edit and preview print designs before placing their order online. The unique feature-packed print solution can seamlessly integrate into the printing software with highly efficient APIs.
PrintPLANR offers complete value for your money while being completely affordable. Create unlimited B2B stores for corporate customers and attractive B2C print shops for public customers.
It can also be integrated with various accounting software to manage your financial data easily. The solution is highly flexible as you can scale your resources up and down, suiting your business requirements.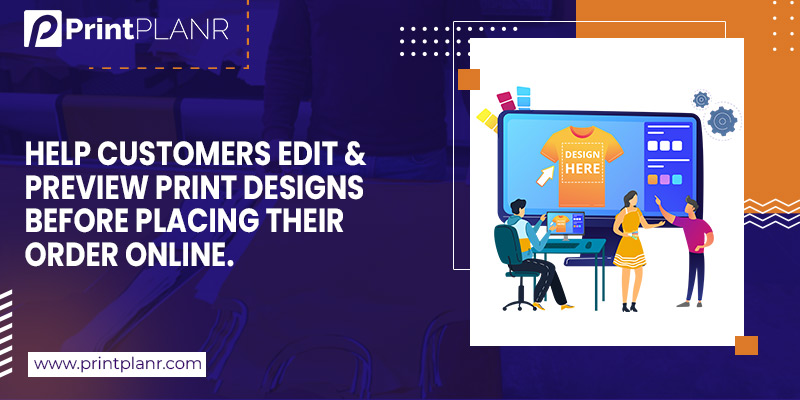 How Does T-Shirt Design Software Help E-Commerce Business
A New Strategy to Sell T-Shirts

Before, it was too hassle for the e-commerce stores to stock apparel to match the specific need of their customers. Nowadays, it would be best if you integrated with t-shirt printing software, which delivers a wide range of product design options.

You can allow buyers to design their t-shirts with the help of a t-shirt design tool, and sellers will benefit from the inconvenience of maintaining an inventory for customers. The online e-commerce store can benefit from this unique, innovative software that increases sales.

Allows Customers to Personalize their T-Shirts

Customers now have access to everything at their fingertips, so they would choose the e-commerce websites that deliver value in the form of product designing space. Let the buyers add color, text, art, pattern, style, and more with their own choice of t-shirt design.

By giving liberty to the buyers, you can increase website traffic in a short period. With t-shirt design software, anyone can easily design, customize, personalize, and make changes to their apparel.

Stay Afloat in the Competitive Marketplace

In the e-commerce space, product designing is the hottest trend, offering the freedom to design the apparel they like. If the business can't keep pace with modern trends, it will be non-existent.

An online t-shirt design tool has become essential if the store needs to stay afloat in the competitive market. The integration of the t-shirt printing software will make an e-commerce business stay true to the customers with everchanging preferences.

Gain Competive Edge in the E-Commerce Industry

Due to the lack of resources, the t-shirt industry has become competitive over the years. Withstand the competition in the e-commerce with t-shirt graphic design software which can help online e-commerce stores to gain a competive edge in the marketplace.

PrintPLANR's t-shirt design software has all the functionalities and features for potential customers and buyers with an effortless user-friendly interface to design their t-shirts. Once you implement the t-shirt design tool, you can stand out from the competitors with increased ROI.

Potential Customers Obtain Value for their Money

Nowadays, customers need value for every penny they spend shopping for t-shirts. And by integrating with the t-shirt design software, you can easily ensure the freedom, making them happy and satisfied.

Customers are the king, and the primary focus should be delivering value for their money. When potential customers are satisfied, they will return to you for more shopping and constantly look to benefit from your e-commerce stores.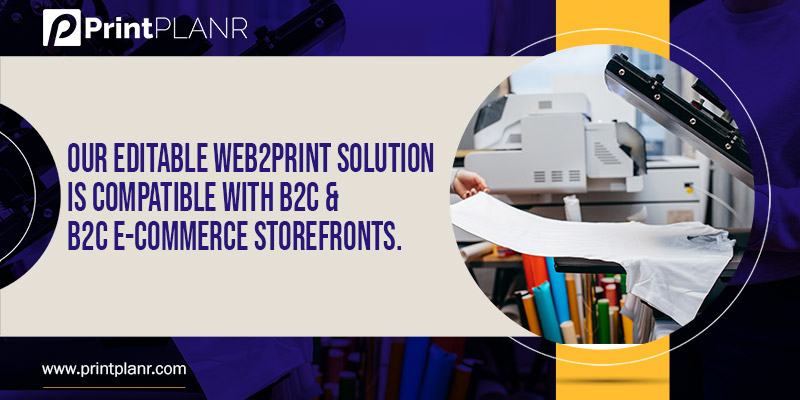 Given below are a few uses of PrintPLANR's Online Design Studio:
B2B:
The innovative solution comes with an online B2B storefront for online ordering. PrintPLANR allows promotional companies to view, approve and order print products in real-time and the solution lets you create unlimited online storefronts for customers of every purchase level.
B2C:
Our editable Web2Print solution t-shirt printing software is also compatible with B2C e-commerce storefronts. Create any B2C storefronts and let your customers view, customize, use ready-made templates, upload, and order print items online, and the end-users can always track their order and its status with an option to re-order.
Centralized dashboard:
The dashboard displays all the aspects of your print business on a single screen in an organized manner. The dashboard can be customized directly from the homepage or using multiple MIS settings.
Cloud-based:
PrintPLANR is the best cloud-based print MIS provider and one of the best in its field. The cloud-based solution is highly compatible with all B2B and B2C storefronts. You can access the software by any internet-browsing device – a laptop, tablet, or a smartphone and thus from anywhere.
User-friendly:
The online t-shirt design tool is highly user-friendly and packed with rich UI and UX. Also, the end-users don't have to come from an IT background to grasp the software's functionalities, thanks to its easy-to-navigate feature.
Powerful customization:
Our solution enables your customers to freely place, manage and supervise their print orders online. The ODS tool supports powerful customization to integrate with B2B and B2C storefronts. Additionally, the feature-packed print solution allows the end-users to customize the design, theme, quality, and color and order personalized items on the go.
PrintPLANR offers best-in-class delivery, and its lightweight solution does not require significant software downloads. The team will do the required initial setup, and being SaaS-based, the reliable team also provides regular maintenance, free of cost! Contact our experts for more assistance regarding the t-shirt graphic design software and to set up a free demo.
---