Everything You Need To Know About MIS Software
The printing industry has been through many different changes with changing technology trends. The evolving technologies increase the expectations of customers. To reach such expectations and increase overall productivity, Management Information System (MIS) Software comes with significant features for print businesses to enhance growth and reach customer expectations.
From significance to advantages, we help you know everything about MIS software in the printing business.
Understanding MIS Software
MIS software is basically an application specially designed to optimize print business operations. Print MIS systems can integrate with various operations, workflows, and data involved in print production.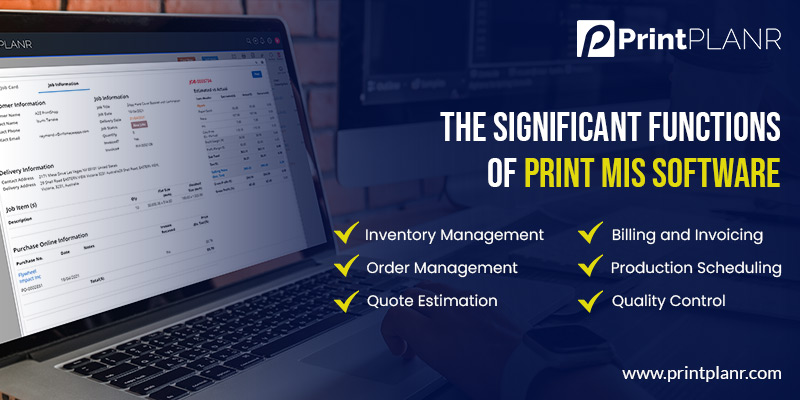 Here are some of the significant functions of print MIS software:
Inventory Management:

It is critical to keep track of print materials and supplies. MIS software manages inventory in real-time, making sure that you never run out of supplies.

Order Management:

MIS software can efficiently manage customer orders. It organizes every order detail, quantity, and delivery date.

Quote Estimation:

Accurately estimating the cost of print jobs is crucial for pricing and profitability. MIS software assists in cost calculation, depending on many aspects.

Billing and Invoicing:

It automates the billing process, ensuring that bills are correct and delivered on time to clients.

Production Scheduling:

To fulfill deadlines and enhance production efficiency, proper scheduling is vital. MIS software creates production schedules and facilitates the efficient allocation of resources.

Quality Control:

Quality control checks can be performed at various phases of production using MIS software.
Advantages of MIS Software
MIS software in the printing business can offer several advantages; few of them include:
Here are some of the significant functions of print MIS software:
Enhanced Communication:

Print MIS software can offer smoother operations, enabling better communication between departments.

Data Insights:

MIS software can help you with strategic decision-making by generating useful data and reports.

Enhanced Efficiency:

MIS Systems increases overall efficiency by reducing manual errors and speeding operations with its automation functionality.

Cost Reduction:

Helps in cost reductions with accurate quote estimations and inventory management.

Customer Satisfaction:

It achieves great customer satisfaction with its Customer Relationship Management, providing on-time delivery and accurate orders.
How PrintPLANR Cloud-Based MIS Solutions Transforms Your Print Business
Here are some of PrintPLANR's significant features of MIS Software Systems: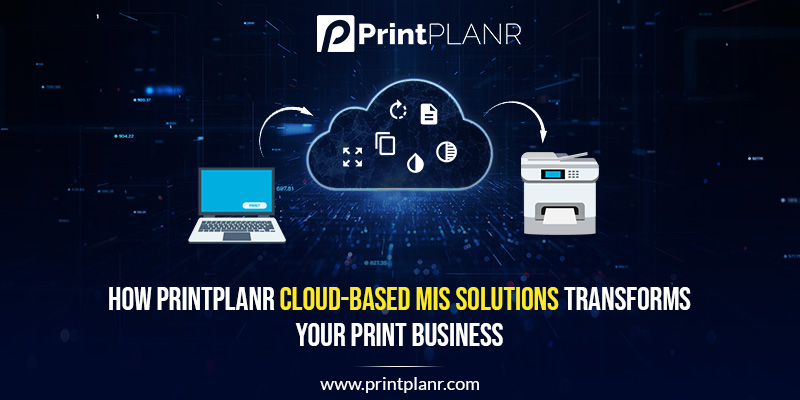 The PrintPLANR CRM Module allows you to oversee different contacts, areas, and departments of a single company or group of companies in one area. PrintPLANR includes a powerful CRM that will remind your personnel to follow up using the module's automatic task/call feature.
Warehouse Management and Insights:
PrintPLANR's warehouse management tools provide you with complete control over your inventory. You can also gain insights with a detailed selection of reports and analytics.
Our MIS system offers quote customization by enabling customers to compare quotes from multiple providers and have them delivered directly with ease. The PrintPLANR MIS System gives accurate print quotes with clear cost splitting and can be shared with clients.
The MIS print software enables you to easily access it from anywhere. You can easily integrate with other software tools, such as design and accounting systems.
Scalability and Accessibility
PrintPLANR may be accessed from anywhere because it is cloud-based, making it perfect for enterprises with many locations or remote operations. It expands with your company. PrintPLANR adapts to your demands, whether you're a small print shop or a huge printing corporation.
Getting Started with PrintPLANR
You are just a step away from simplified business operations and an efficient workflow. Leverage PrintPLANR MIS Software System features with the following steps:
Establish your requirements:

Determine the specific needs of your printing company.

Request a demo:

Request a demo from PrintPLANR to get a feel for the software.

Customization:

Work with the PrintPLANR team to customize the program to your specific requirements.

Training:

Ensure that your workforce is properly trained to use the program.

Integration:

You can integrate PrintPLANR MIS system software with your existing tools and systems easily.

Implementation:

Depending on your company's needs, you can roll out the program gradually or all at once.
If you want to accelerate your print business and move ahead toward soaring heights, Management Information System software (MIS) is the perfect choice.
It's strategic approach of quote customization and organizing the records accurately will help you boost your overall productivity.
One leading provider of such software solutions is PrintPLANR, which has proved its worth with its MIS system's unique features. It is now a leading cloud-based MIS software solution, offering multiple features that can be customized to the needs of the printing industry.
Want to transform your print business and lead the competition? You are in the right place! PrintPLANR is the one-stop solution for all your printing business needs.
PrintPLANR's MIS software is well worth investigating if you want to revolutionize your print business and stay ahead of the competition.
Get the PrintPLANR MIS System today and make your business operations more efficient, accurate, and profitable.
---