Is Web to Print the new age Solution for the Printing Industry?
If you have been in the printing industry for some time, you would have seen the immense growth technologically the industry has seen. It is no more about just printing using a legacy system, but much more!
The legacy system consumes a lot of time and energy of your workforce to get the printing work done and has many disadvantages. Although several small printing businesses still use legacy systems, thinking that the high-end technologies are too expensive for them, which is not valid.
Here we discuss one such solution that works wonders and completely changes your work dynamic when used correctly and ponder if this is the new age technology for the printing industry; A Web to Print System.
Web to Print or Web2Print is a remote publishing solution that works through an eCommerce site or a print eCommerce for retail (B2C) and corporate (B2B). It works as a centralised system to ease the business process by introducing automation.
If the process is made so easy for the printing companies, why not implement a web to print system in your print business? Many companies think it is too expensive and cannot afford it. It could be true in some cases, but not 100% necessarily so if you get a viable and scalable W2P solution. So, the next question seems fair.
How can Web to Print Solutions Benefit your Business?
The web2print software takes your printing business online and offers tons of features that help manage it efficiently. Opening an online print shop or a print eCommerce goes a long way when you have a Web to print system integrated.
Overall, the web to print solutions offer a great way to grow your market globally, simplify printing operations with all departments working in sync, and increase performance efficiency and productivity.
Why does PrintPLANR consider Web to Print to be a new age solution for the Printing Industry?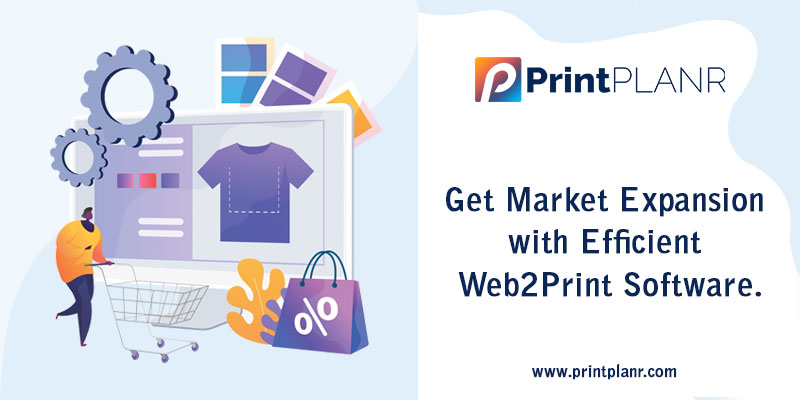 The web to print solution is a readily usable print system that manages the lead/contact details, order details and approvals, inventory, the job and a dispatch manager. It is an all-in-one printing solution that drives your business processes faster and helps your business grow. Here are the reasons why we consider the web to print system to be a new age solution:
Centralised Management:

As mentioned above, the web2print software comes with feature-rich modules and add-ons that addresses individual departmental printing operations while staying in sync with the other departments. This connectivity helps in inter-departmental communications and aids in fastening the processing time and shortening the time to delivery.

Brand Consistency:

Building brand recognition requires consistently meeting industry standards, standing out, and reaching high customer satisfaction and efficient marketing. And this is where the web-to-print solution can be out to use. The solution efficiently works, and it provides a unique interface and design for the website and a personalised brand template.

User-friendly:

Good web to print software allows simple workflows and an ease-of-use for both the admin and the client, securely operated with proper credentials. The client can upload ready designs or approve the customised designs before they go for print, avoiding any confusion as they are already proofed and printed.

Catalogue Manager:

The printing industry is vast, and so could be the services that you provide. Making it easier for your clients to find what they need becomes a crucial point in deciding whether it turns into a job or not. Hence, a web to print solution that comes with a catalogue manager helps the admin categorise and sub-categorise systematically. And, further, help the clients in quickly choosing what they want.

Accessibility:

Unlike the on-premises systems limited to their location, web to print software provides access from anywhere and anytime with proper credentials.

Cost Savings:

As a cloud-based solution, the web-to-print system provides enormous cost savings as it neither needs a hardware installation nor a complex process to upgrade its features. As the SaaS provider looks after the web-to-print solution upgrades, its hosting online and database management, no in-house IT infrastructure maintenance is required leading to cost reduction.

Fast Order Processing:

An all-in-one web to print will have an in-built designing software to personalise the customisable designs or upload their own in multiple formats, including JPEG/png/SVG, eliminating the need for multiple rounds of revisions. The approved product directly turns into a job, and once completed, it is shipped, the invoice generated and shared with a client, all in a single click with web2print software, making the whole ordering an easy process.

Variable Data Printing:

The option available on the web to print solution helps customise a print order at an advanced level with personalised data points, including customer name, address, print requirements, purchase history easily in a single order. It prevents manual upgradation of data and errors due to the same.

Increase Sales Volume:

Happier the customers, the chance of them becoming repeat customers are high. With web2print software, you can provide the best customer experience to all of your clients. With the automation and management of the web to print solution, you get 100% customer satisfaction and gradually increase your sales volume.

Customisations and Integrations:

The web to print, being a cloud-based solution, provides an efficient platform to customise the readily available solution and add multiple third-party integrations with the help of the API technology, making it a cost-efficient and flexible solution with business-specific workflows.
Are you curious to know more? We are here to help. Talk to our Print MIS and Web to Print specialists to get a personalised solution now.
---