Print MIS Software – The 10 Key Things to Consider!
Every printing business, whether you are a commercial printer, signage printing company, printshop owner and promotional printing company, all of which requires a management software referred to as Print MIS (Management Information System).
This Print MIS software is a print management solution; when used ideally, your business can advocate immense growth and prosperity among your competitors. Hence it is significant to purchase the right Print MIS system for your business.
Being a print management solution provider for quite some time now, we list the top 10 key considerations that are absolutely necessary for a Print Management Information System to be contemplated as an excellent option. Here we go through each in detail and are happy to answer any further questions you may have.
The 10 key Factors to Consider in a Print MIS System:
Ease of Use:
The print MIS system that you choose should not have a complex workflow. Your time should not be wasted training your staff to understand the software but utilised to get things done. Hence the handling of a print MIS must provide excellent ease of use with a simple workflow.
Efficiency:
The Print MIS Software only is as good as its efficiency. The dynamic system should allow not just ease of use but also a robust and organised environment that can handle any amount of complex data, its seamless flow, and quick accessibility without affecting any parallel running functions on the software.
Connectivity:
No business can run on a single software. But, good management software can manage all the operations when the correct integrations are chosen and integrated into it. So, the print MIS software should have an API that integrates with any third-party software application of your choice.
Complexity in Implementation:
A proper implementation plan, an easy learning curve to operate the software, and user adoption are crucial factors. The system setup should be in almost no time with the functionality goal met and without affecting the day-to-day business during the implementation of the MIS software for the printing industry of any kind. A project coordinator who ensures the complete process goes seamlessly is a must.
Print MIS System Provider:
The whole process of migrating into a new print MIS software or incorporating one in your print business is exceptionally made simple when the communication is transparent and effective. The MIS system provider should securely provide the MIS software on the cloud, be friendly and customer-oriented, and prioritise your needs. Also, significantly meet all of your print MIS system's needs efficiently.
Future-proofed MIS System:
The print MIS system should be scalable and efficiently accommodate digital agility according to your business growth and have the capability to add more needed data resources.
Cost-effective:
The print MIS software should be affordable, long-lasting and improve the ROI. Only when these criteria are met can MIS software for the printing industry be considered cost-effective.
Feature-rich:
The print MIS feature should possess all the significant features required to manage your print industry processes. From accurate estimates, order and purchase order manager, job, invoice and shipment tracking, payment integrations to insightful reporting, the Print MIS system should include minimum features as mentioned above.
Customizations:
A effective print MIS system should allow customizations on top of the existing platform. Not all printing industries are the same, and every business has its workflow and operations. The print MIS system should fit customisations precisely to automate and seamlessly fit the whole process.
Post-implementation Support:
The relationship with a print MIS system provider does not end with the completion of implementation. The MIS system for the print industry will require regular upgrades and bug fixes. A proactive vigilance of the Print MIS system from the provider is a strict requirement never to compromise.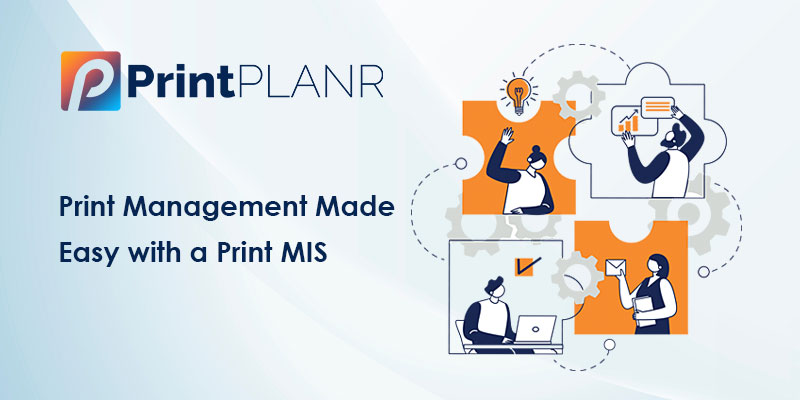 Being in the industry providing print MIS system and web to print solutions to different verticals of the printing industry and successfully providing customisations that precisely fit the business needs, we have the experience and expertise and based the above list on the knowledge gained over the years.
Our in-house PrintPLANR team has gained many insights from regularly upgrading our solutions as per the client's requirements and knows exactly what to suggest and when to ensure the client gets the maximum benefit.
If you are looking to incorporate a print MIS system in your print business, the above mentioned ten crucial factors are a must. Talk to our friendly consultants to broaden your understanding of what a print MIS is and why you need it in your business. Our consultants will be happy to help you as much as possible, be it answering your queries or suggesting the customisations you require.
---