What Is Web-To-Print Solutions? Why Should I Implement?
Get complete product customization software for B2B (Retail) & B2C (Corporate) business
If you run a business and are unaware of what a web-to-print solution with automation can do to your business, you're lagging far behind your competitor.
Any amount of marketing investment goes down the drain when you do not have good web-to-print software that can automate your business on many levels, increasing ROI.
Print business owners know the tedious task of managing workflow and still not even getting close to the desired output. Web to print for printers handles multiple orders simultaneously without hassles compared to conventional offset printing.
If you own a printing business, you should deliver an individual approach to potential customers to personalize unique products and quickly get what they want at affordable prices.
Our web-to-print solution makes your efforts count by investing in the right custom print management solution that offers you much more than traditional software.
Learn what web printing is and what is web to print that can deliver a distinctive customer experience and effectively save your money.
What is web-to-print software and its features?
A web-to-print solution is a SaaS cloud-based storefront solution for B2B and B2C businesses, offering excellent flexibility through its feature-rich functionalities.
Web-to-print software can manage the whole workflow process in an organized manner to deliver an excellent client-side print eCommerce platform for all print, promotional, signage, and apparel industries.
Web to print for printers comes with an integrated, accurate estimation system, product browsing, and an easy catalog that can be scaled, customized, and configured to suit any print business requirements.
In simple words, it is a print management software that also works as a built-in digital asset management tool for your print offerings. It allows you to design the online stores for your print products & displayed them on the same platform.
Key features of web2print software
Works for t-shirts, mugs, water bottles, pen drives, mobile cases, face masks, business signs, and more.
A user-friendly website with a shopping cart.
Real-time product visualization and customizable themes.
Suitable for B2B or B2C stores with variable data products.
Effortless installation and configurations.
Easy and powerful admin access with the job tracking process.
Customizable homepage, panels, widgets, and content-managed page templates.
Product-specific configurable HTML5 designer studio.
Integration to multiple third-party applications of your choice.
Add-ons, including an artwork approval & pre-flighting module.
Order & job management, shipping & tracking, and seamless payment options.
A dedicated customer service.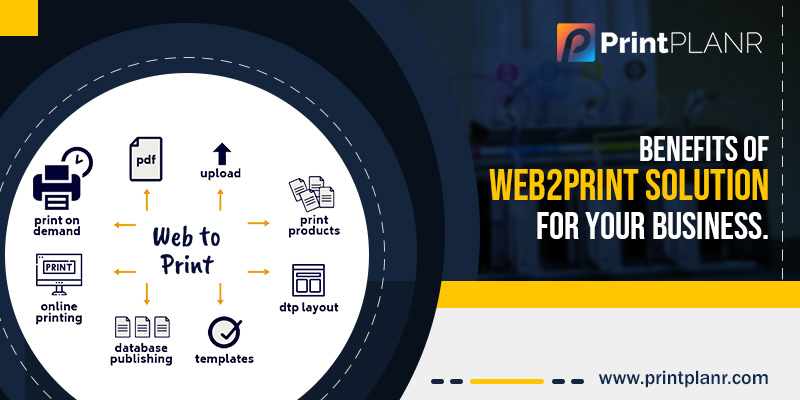 Know the benefits of the web to print solutions
Get precise print estimation with cost splitting, including profit.
An advanced dashboard displays all essential business data in a snapshot. Comprehensive for decision makers to track and make the most favorable business decisions.
Create a B2B storefront (eStore) for your corporate customers by offering and displaying sales pricing to targeted customers.
Create unlimited B2C print stores for general customers and handle all with the same login certifications and promote your branding with your own logo.
The option of 'quote request' means customers can review varying prices on the spot and categorize products as fixed or editable as required.
Separate address options for invoicing and billing.
You can include digital products like any other product.
Ward off manual paperwork and have all information in hand with the digital print management Web2Print software solution by PrintPLANR.
If you have a different ordering system, you'd be delighted to know that PrintPLANR MIS integrates very well with external ordering systems.
Why do you need to implement web-to-print for printers?
Annihilate faulty printing and artwork errors

The web-to-print solution allows customers to upload their artwork, eliminating the typical artwork approval process such as coordination and communication among several team members, which is time-consuming.

With web-to-print software, end users can create new artworks or use the ready-to-print templates from the library to view the print design proof and give it to print. By this, you can avoid faulty printing and eliminate any mistakes in the design in the early stages.

Access to high-volume print orders

In the past, it was head-heavy for sales representatives to print large volume print orders. He has to go from one office to another and take print orders, but now the internet has shrunk the world.

Eliminate the conversation during finalizing quotes, order confirmation, updating delivery status, and artwork approval with web2print automated solutions. You can print large volumes before print jobs get queued in production.

Eliminate pre-production cost and reliability

The web-to-print solution saves costs from hiring a designer because even with no skills, one can customize templates and designs easily and place orders leading to more profits and sales.

Eliminate typical processes like customer interaction and manual intervention with web-to-print software features such as order notifications, placing request quotes, easy reordering, and proofreading online artwork.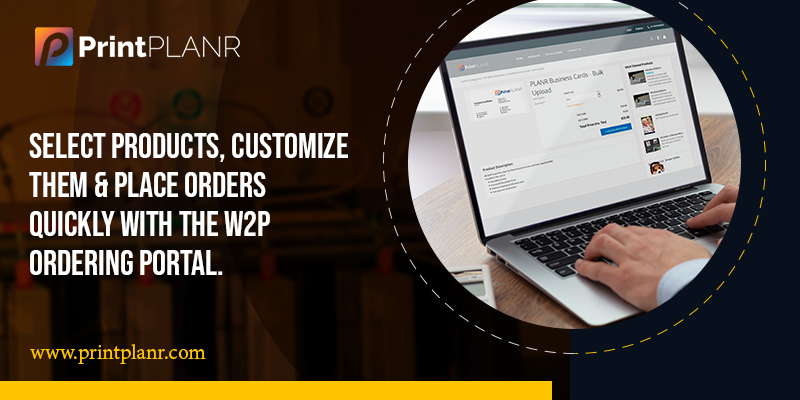 Increase your loyal customer base

Unlike offset printing, which can take one order at a time, web-to-print software can handle multiple orders in one go. You can produce more orders faster, knowing what and when the customer wants without breaking a sweat.

With web to print for printers, you can bolster prospects' marketing supply chain by seamlessly printing more by-products such as brochures, t-shirts, masks, and water bottles for high-demand events in emergencies, which skyrockets a steady flow of revenues and increases trust in your potential customer base.

Enhance brand visibility

With web-to-print software, you can customize as per your brand guidelines with an attractive website theme and intuitive UI/UX interfaces with built-in controls for better productivity.

You can send invoices to prospects quickly and efficiently with easy user and brand asset management. The web-to-print solution supports the marketing needs of a large team, ensuring brand consistency.
The web-to-print solution is undoubtedly an insurgence in the printing world. It has automated and simplified the task with the customization and a fast ordering process. As a printing business owner, web2print software opens doors to infinite possibilities, and you have control of your material, product, and brand.
PrintPLANR's web-to-print software allows you to customize your print business infrastructure and personalized products as per your preferences and needs, suitable for commercial printers, print brokers, and promotional and signage companies. Talk to our friendly team to get a personalized quote.
---