Salient features of a Web2Print solution that you should know
W2P is an intelligent workflow management system or a print management system customized to manage and organize your online, web-based print shop precisely, effectively, and efficiently.
The Web2Print solution provides an integrated enterprise resource planning that takes care of every step of the printing storefront business from receiving orders, raising estimates, production, inventory, sales, to shipment.
Be it a Commercial Printer, Trade Printers, Retailers, W2P For Wide Format, Direct Mail Houses, Factories / Manufacturers, Consumer Goods / Apparel, and marketing agencies, PrintPLANR's Web2Print solution is customizable to suit any print industry.
A public storefront's specific needs for retail customers and the internally locked corporate customers, though they have similarities, require unique customizations, different security levels, and entirely different order processing channels.
Hence the Web2Print storefronts for business to customers (B2C) and business to business (B2B) should be different to fulfill the feature needs specifically for a seamless print ordering system.
Features our W2P Solution for a B2C Storefront Possesses:
Effectually showcase your products through an easily browsable product catalog enhanced with a keyword search option.
W2P allows theme customizations from adding a custom menu, categories, and unlimited nested products to personalize your storefront. It also enables the creation of multiple custom CMS pages.
The W2P solution also provides a secure sign up/ login option for your customers.
Maintain standard products, editable products, and stock products efficiently using PrintPLANR's W2P solution.
The solution has an Online Design Studio (ODS) that allows multiple groups, label options that help you create ready/editable templates with an alternative to attach the artwork of choice for your customers.
The solution comes with a price builder that automatically generates accurate estimates/invoices for all the standard and editable/configurable products of your print shop orders.
The solution also helps your customers keep track of orders, reorder them, and add multiple delivery addresses to choose from as per the customer's choice. Only after obtaining self-approval from your customer through their sign-in account will the order be processed to avoid errors in orders.
Get automation in job processing once the order gets confirmed with the job management, inventory management, and other add-on modules and get an end-to-end solution.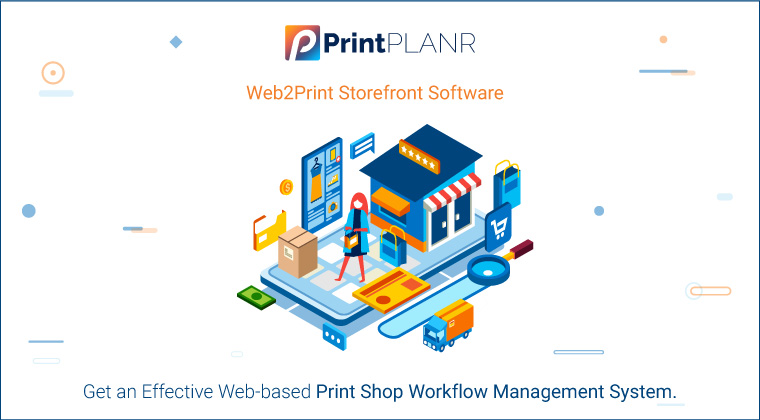 Features our W2P Solution for a B2B Storefront Possesses:
The B2B W2P solution comes with a closed-door login with selective access to users with credentials and many other features similar to a B2C Web2Print solution.
Additionally, the B2B W2P provides options for your customers to customize the header and footer, choose a language from multiple options, have editable products with options to upload fonts according to the company standards more.
The B2B customers are free to choose and customize the editable fields, the non-editable fields with drop-down options, lock field positions, and set mandatory fields while editing products.
The solution even provides an 'Order on behalf of' for the B2B customers with options to customize the spending limit, stock replenishment alerts, and hide/provide a selective view to the print shop prices.
The solution also lets the B2B customers update information through a .csv file with variable data while using the 'order on behalf of' option or variable data printing.
The solution even allows B2B customers to link their contact database, departmental database to the W2P solution that makes the ordering process more manageable.
Provide an efficient order management system that allows easy online ordering for your B2B customers with an effective approval process.
The approval process may include registration requirements, multiple approval stages from the main approver, departmental approver, user-designated approvers to a self-approval before it turns into a job.
The solution also provides easy job tracking, reorders, stock usage, and its maintenance history.
What are the Advantages of Having a W2P Solution?
Do not let the varying price of materials and labor costs cut down your profit margin. With the updatable price builder, always stay ahead of the competition.
With W2P, get an end-to-end solution that lets you manage your workflow efficiently, eliminate any departmental communication gap, reduce the production cost, and improve performance efficiency.
Exceed your customer's expectations by providing top-notch customer service, an easy and efficient ordering system, and a responsive online designer studio for customizable products.
The solution is scalable, SEO-friendly, multilingual, and compatible with multiple platforms, which allows you and your team to access the software from anywhere.
The easy to use flexible W2P software does not involve a learning curve and hence cuts down the time required to understanding the SaaS-based solution and provides a successful implementation.
With the support and maintenance team, you can get regular updates and, when required, get additional third-party software integrations of your choice to eliminate repetitive data-entry.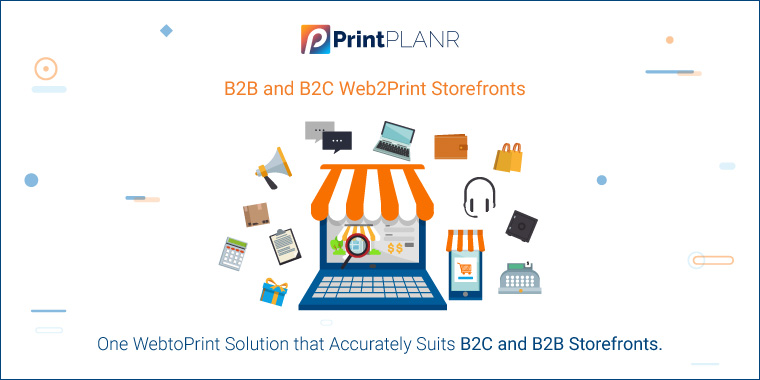 Why choose PrintPLANR for your Print Industry W2P Solution?
Our team at PrintPLANR sat with your people from the print industry to understand the roadblocks in the workflow and developed a SaaS-based enterprise resource planning solution that streamlines the workflow process integrated with a web2print making PrintPLANR an end-to-end solution.
Constantly staying in touch with the users of this solution, our clients, we have regularly updated the solution to perfectly fit their business needs. So, now you get a well tested ready Web2Print solution backed up with our client satisfaction.
Developing the solution in-house gives us the expertise and the freedom to make as many customizations that you require, additional third-party integrations of your choice, and provide better connectivity, and eliminate multiple data-entry.
---