Are you Interested in Trying out our Tee-shirt Design Software?
Highlights of our T-shirt Design Software
The T-shirt design software integrates with all e-commerce websites, including Magento2, Shopify, WooCommerce, Wix, Umbraco, Kentico, Zoho Site, Sitecore, Adobe Experience Manager, Drupal, Joomla and more.
Our clothing design software has an API that connects to any third-party software and is more than apparel design software. The modules that accompany the t-shirt software aids in enhancing the features and provide a price builder, one-click conversion of estimates to invoices, to name a few.
Your client has the option to upload high-quality images in JPE, JPEG & PNG formats or choose from readily customisable products from the library and preview the images in real-time through the online preview of the products.
As an admin, you can add custom prices into the price builder, lock the fields or allow customisations selectively, easily create categories and nested categories for a user-friendly and excellent user experience.
You get different portals for B2B and B2C customers and provide options to save the settings for repeat customers while ordering and choosing the printing format with a resolution checker and other helpful tips on the way.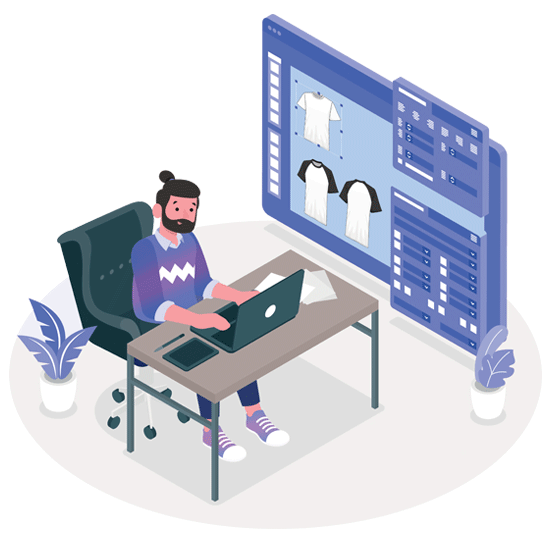 The Efficient Storefront Modules with T-shirt Design Software, Includes:

Multiple Storefront Options:
Get selective access to the admin control panel and the customer panel with proper credentials for your B2B and B2C storefronts. The module takes care of all your storefronts in your online print shop.

PDF Templates:
Personalise with white-labelled, ready PDF templates of estimates, orders, job memos, invoices, and shipping records that can be modified and shared automatically via emails using the
Web to Print solution
linked to the T-shirt design software.

Search Engine Optimization:
With your responsive online print shop e-commerce websites, get campaigning tools integrations of HubSpot, MailChimp, Zoho Campaigns with Google-friendly optimisations and get higher lead conversions and engagement traction.

Multilingual Support:
Let your clients feel at home and choose the language they are comfortable in and native to with a multilingual solution. No language will stand in between as a barrier.

Customizable Module:
The scalable framework on which the t-shirt design software is built provides customisations to fit your business needs precisely. Also, we have partnered ourselves with Print domain expertise & development processes.

Website Layout:
Get a user-friendly, intuitive print eCommerce website with your t-shirt design software. The website layout is flexible to fit catalogue browsing, product comparisons, compelling blog designs for product descriptions and appealing at the same time.

Estimate Manager:
The apparel design software comes with a price builder that creates precise estimates with the estimate manager with a fair profit margin considering discounts and current values. One can turn the estimates into invoices with a single click of a button.

Order Management:
From offset printing to digital printing, get a custom ordering process to match your industry needs with your tee-shirt design software and get effective artwork approval, invoicing and shipping charges with payment gateways, all in sync.

Catalog Management:
Get dynamic catalogues and their effective management to provide an easy browsing experience for your storefront users.

Analytics and Reporting:
Get automated, custom reports on the go that aid in making impactful decisions in managing your print e-commerce storefront website and provide the best customer experience.

Delivery Management:
Link your t-shirt design software to the dispatch and delivery manager and the carrier portals to efficiently keep track of the shipping once the job is completed.
Add-ons and Integrations:
You can get any add-ons and integrations done with the tee-shirt design software with the help of the PrintPLANR API. The integrations with the tee-shirt design software include social media and email campaigns, accounting, payment gateways, and shipping.
Why PrintPLANR's T-shirt Design Software?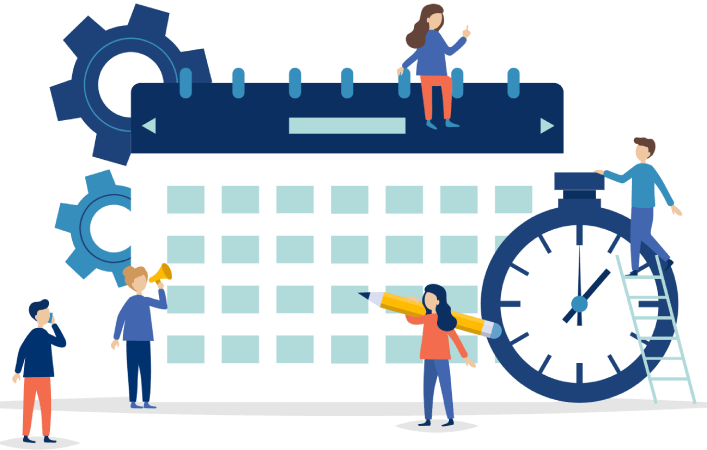 Our tee-shirt design software comes with multiple features and a mobile-friendly HTML5 designing tool.
The apparel design software is SaaS-based and cloud-based, making it cost-effective.
Our integration specialists and developers help with any third-party integrations with your existing online print shop e-commerce website, including payment gateways, CRM, shipping tracking and other applicable third-party applications.
PrintPLANR itself has a highly optimised, customisable and Google-friendly website, multiple online storefronts (for B2B and B2C) and other useful feature-rich modules and solutions, including Print MIS and Web to Print.
You get a client-centric, friendly approach while getting any customisations done on your clothing design software, with a team that is highly experienced and has been involved in the development of the in-house all-in-one workflow management solution.
You get regular upgrades, and our developers work continuously on bettering the online t-shirt design software.
Are you Interested in checking out our T-shirt Design Software
Our Clients Say
We are a print broker in the UK and have always been focussed on systems and best practice so that we can offer our client's a great service. Printplanr is the most streamlined and "broker" focussed MIS we have used. The system has enabled us to offer our clients a more comprehensive service including online stock management whilst enabling us to save time on order processing. Vic and his team are very responsive, there is quite a time difference between the UK and India but their flexibility has ensured that this is not an issue. We are looking forward to working together over the coming years and continue improving what is already a very user-friendly system.
Andrew Perry
Director, Amber Printwork Limited, UK
We have been proud to work in partnership with PrintPLANR and are delighted with their innovative approach and use of technology to meet our ever-changing needs. Their willingness to adapt to our requirements and respond to change requests or issues is second to none. PrintPLANR has assisted our business from end to end, it has given us the ability to, not only, create and track jobs, quotes and deliveries, but also monitor and reduce outgoing costs, increase our margins and have our in-house inventory proactively updated.
The communication, service and capability we have received from PrintPLANR thus far has been tremendous, we look forward to working closer together in the future."
Daniel Cicivelli
The Print Department, Australia
I would Like to thank Vikash and the team at PrintPlanr for their help in installing this system into our Business. We have had a moderate increase in sales due to the fact we have been able to focus on our core business, which is printing and not be consumed by everyday admin. This software does the heavy lifting. The transition was smooth as silk and a pleasant experience.
Well done, PrintPlanr team!"
Gavin Allen
Crystal Print Media, Australia
Do you want to give our Clothing Design Software a try?
To get started, please schedule a meeting and share your tee-shirt design software requirements with our team, and we will get in touch with you with a working strategy that best serves your business needs.
We neither sell data collected from you nor do we spam your emails. We only contact you to discuss our product, and if you are interested, we will pursue it further. Share your details rest assured, and to know more, kindly read our Privacy Policy.
We are GDPR compliant, IS0 9000:2015 & ISO 27001 certified. Your data, information, and your IP are treated as seriously as we would ours.
Quick Note: PrintPLANR understands that every business is unique and has its unique workflow & requirements. While we did our best to build a fully customised tool, we go the extra mile to customise or create a custom module. Please speak to us and find out more.
Book a Meeting