Why Should You Focus On Improving Print Management Software?
Streamline Your Print Workflow and Boost Efficiency with Affordable Cloud-Based Print Management Software
Are you involved in printing or print management? How do you handle print jobs? Is your current print management software helping or hindering your work?
In today's competitive business landscape, the demand for enterprise print management software continues to grow. It's crucial to take your time and carefully assess your workflow, as it can often be disorganized and inefficient. As a business, you are eager to stay ahead of the competition and are willing to explore all options.
Implementing print management solutions can greatly contribute to cost-cutting, especially if you are working with a tight budget. Even if budget constraints are not a major concern, adhering to a lower budget can still be a beneficial practice, enabling you to effectively manage your business without unnecessary stress.
One affordable option to consider is a cloud-based print management software that can cater to all your needs. Instead of opting for a print management solution from a large, unfamiliar company, it is wise to choose a reliable company with a proven track record.
Having spent several years in the IT sector and impressing clients along the way, PrintPLANR has established itself as a reputable choice. With over six years of experience, PrintPLANR serves clients worldwide. Their clientele spans various sectors in the print industry, including signage and promotions. Moreover, PrintPLANR is highly suitable for print brokers or print managers due to its affordability and modular nature.
Print Brokers
Signage Industry
Promotional Printers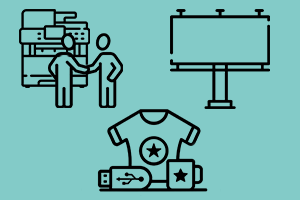 What is Print Manager Software?
Efficiently managing your workflow and ensuring the optimal productivity of your employees is crucial. It enables you to maximize the utilization of your workforce effectively.
A cloud-based print job management software provides the flexibility to access and manage print jobs from anywhere. This seamless accessibility empowers you to devise a robust business strategy that translates into improved profitability.
Embrace automation and bid farewell to outdated manual methods that prove inefficient, especially when dealing with large volumes of data. Make the switch and witness the transformative impact it has on your business workflow and objectives.
As your business expands, so does the accumulation of data. An effective enterprise print management software must effortlessly handle the escalating data demands, seamlessly adapting to significant fluctuations in volume.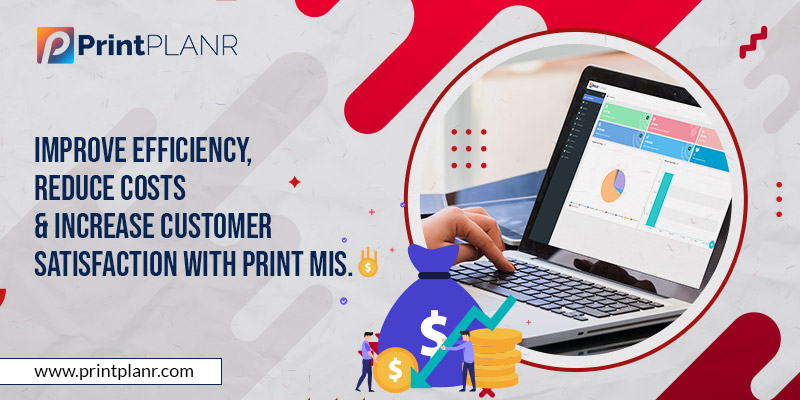 Here are a few questions you can ask about your print management software:
Does it provide CRM?
Does it provide supplier management?
Does it automate follow-ups, so your employees can take advantage of them?
Can you manage inventory?
Can you manage both print jobs and purchase orders?
Does it provide an online tool for editing print designs?
If your answer to any of the above was no, it's a clear sign that you must focus on improving your print management software.
A great print business starts with an excellent print management information system, so PrintPLANR's reliable print job management software is a complete print management solution rather than just software.
Print management information system helps businesses ensure that printed materials are accurate and up-to-date. With features like version control and approval workflows, businesses can avoid errors and ensure that the final product meets their standards.
A cloud-based print management software streamlines the production process by automating jobs and delivering a central location for all print-related assets, which can help businesses reduce turnaround times and improve efficiency.
Reliable print management solutions often include tools that allow team members to work on projects in real-time. This can help businesses to get projects done faster and more effectively.
By automating tasks and streamlining the production process, print management software can help businesses reduce costs. This can be highly beneficial for businesses that produce large volumes of printed materials.
An enterprise print management software can help businesses secure their print-related assets and ensure unauthorized individuals do not access sensitive information.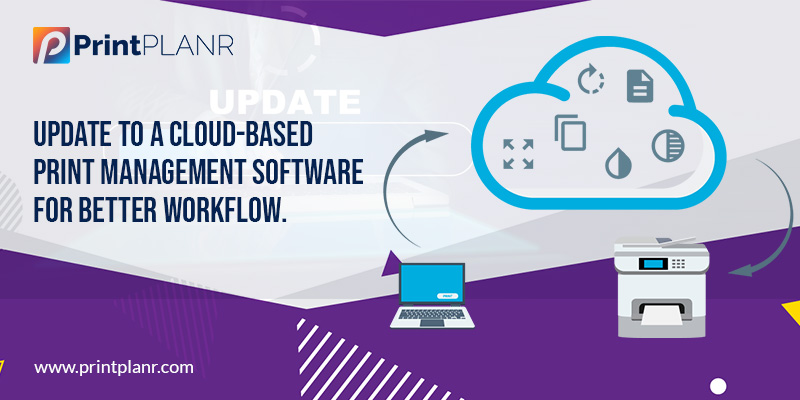 Enhanced customer service
Investing in a print management solution can streamline the production process for businesses, ensuring that printed materials are delivered to customers efficiently and with high quality.
Print management software can help businesses streamline their workflow and reduce the risk of bottlenecks or delays. This can help businesses meet tight deadlines and improve efficiency.
Print management information systems can be easily scaled up or down to meet changing business needs, making them more flexible and adaptable, increasing customer satisfaction and stronger brand loyalty.
PrintPLANR's print MIS software can generate various reports, including production metrics, cost analysis, and customer data, making tracking and analyzing performance easier.
Print MIS system can help businesses ensure that their branded materials are consistently applied across all print channels, helping to improve the overall brand experience.
Overall, improving your cloud-based print management software can benefit your business. By streamlining the production process, improving accuracy, and enhancing security, you can improve efficiency and reduce costs, all while delivering high-quality printed materials to your customers.
PrintPLANR is a highly modular print management solution that is cloud-based and offered as a SaaS model, which means every size of print business can use the solution, from start-ups to large enterprises.
From advanced CRM, BI-incorporated dashboard, Web2Print, Online Design Studio, and other excellent features, PrintPLANR's enterprise print management software caters to every need of modern print business.
A highly dedicated support team will guide you through any issue that you may find. The software is built to be easily used by even a non-technical person. Although no training is required to use the solution, the team provides all required basic training to your team nonetheless.
Free consultation from experts! You can also opt for a demo or try it for free for a limited period. Why wait longer when automation is so affordable and just a click away?
---