Benefits of Investing in Web2Print Software for your Business
In this modern digital world, every investment in any service, product, or web-to-print software must be well-planned for your niche with a clear expected ROI. Printing companies face many challenges when deciding on a wise investment strategy for web-to-print software for their business.
With the rapid advancements in technology and automation today, web2print software helps eliminate repetitive tasks and manual data entry, thus enabling businesses to deliver exceptional results in their print jobs.
A printing company needs to adapt web2print solutions to reduce margins, be competitive and survive in an ever-changing market. Prospects like to buy products with customized designs according to their choices.
Create a web-to-print shop for your business by setting the goals you need to achieve. Your objective might be to enhance your brand, generate more leads, conversions, customer interactions, and engagement, or improve customer service.
PrintPLANR's web-to-print software is an online ordering platform for the web where you can manage your entire print fleet. Let's look at how web-to-print solutions will aid you in achieving all these above goals and boost your ROI.
Top advantages of investing in web2print solutions for your print business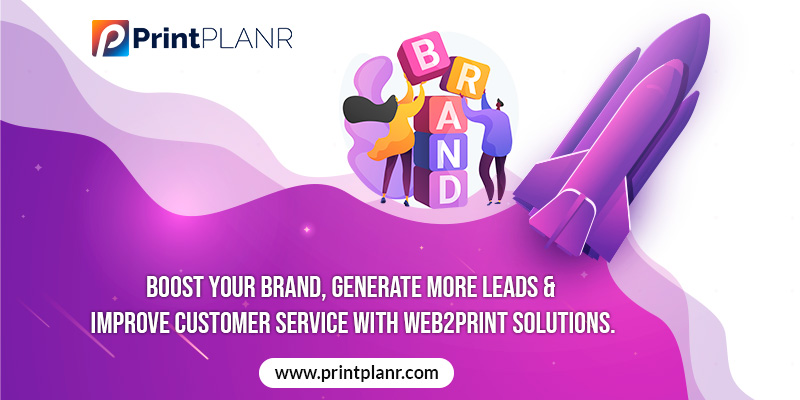 Faster quotation process

A web-to-print software has a quick quotation system that allows potential customers to check how much it costs for their print jobs with size, quantity, print order details, and more.

With this, businesses can send customized quotations to their clients without the intervention of a salesperson. Thus getting a quotation for your print job is easier and quicker, providing an efficient experience for potential customers.

Rapid print job proofing and approvals

A decade before, a representative must coordinate with several print departments, designers, and engineers to get artwork done for final approval and proofing.

But nowadays, with the help of web2print solutions, customer can upload their artwork and submit it on the portal for reviewing and start production, thus eliminating the need for conversing with multiple departments with faster proofing and approvals.

Simplified buying process

If you need to grow your print business, be it signage, promotional, or print brokers, it's vital to have a simplified buying process for potential customers where they can check the inventory, budget, place orders, track orders, shipments, and much more.

Increase conversations and engagement with customers by allowing them to complete their orders in a quick and accessible manner without any hassles.

High-volume print order with less turnaround time

Before web-to-print solutions, a salesperson must walk to a physical web-to-print shop to deliver orders. But customers can customize their designs using the web from any location and place orders.

Web2print software allows you to obtain high-volume prints in less turnaround time.

Receive orders from individuals and businesses 24/7

Integrating a web-to-print storefront into your website or application make your business part of a new technological era where customers can place orders 24/7, regardless of the location or time zone.

Our web-to-print shop is built for B2B and B2C customers so they can place orders and receive updates anytime, eventually attracting more customers.

Quick and easy payment methods

Increase conversions and boost the customer experience by providing quick and hassle-free payment methods.

PrintPLANR's web-to-print storefront streamlines the complex payment process by providing various payment methods Paypal, UPI, net banking, credit/debit cards, cash on delivery, and more.

Gain a loyal customer base

With web2print software, prospects can customize their order with their own design and ready-made templates and submit it for production with easy payment methods.

Unlike traditional printing methods, which can process only one order simultaneously, web-to-print software can handle multiple orders without hassles, eventually enhancing user experience and customer loyalty, decreasing costs, and delivering top-notch products with an increased inflow of revenues.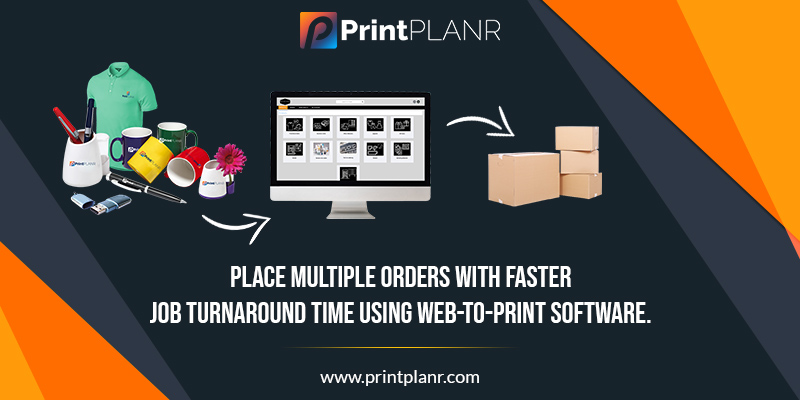 How can customers benefit from web2print solutions?
PrintPLANR's web-to-print software can access anywhere on any device with an active internet connection. Customers can design, customize, and make changes to their products and experience their web-to-print storefront by customizing them.
Customers can easily design, customize and place their orders as per their timeframe.
Access to real-time estimation and delivery time.
Customers can personalize their apparel and products and view them instantly in real time.
Admins can manage their account's liberties and provide access to their employees.
Get access to the past order history and reorder print jobs anytime effortlessly.
Place multiple orders with faster job turnaround time.
Track shipments, download invoices, and make quick payments hassle-free.
Increased customer experience and feeling more connected with your business.
Considering all the above aspects, you should have a more definite opinion for implementing web2print software into your organization, benefiting your prospects and your enterprise. However, to stay relevant in the printing industry, your business needs proper web-to-print solutions to sell your services online to a broader audience globally. Talk to our experts today!
---