Benefits of Integrated Accounting Software with Print MIS
Manage all Your Financial Data Securely With Print MIS Accounting Software
Integrated accounting software has become one of the essential tools for all industry verticals. As a business owner, you know how challenging it is to manage financials manually.
Print MIS integrated accounting software is reliable for streamlining financial operations via strategic planning & control of business functions within an establishment.
Print MIS accounting software integrates all primary functions linked to financial accounting into a single application.
The requirements of separate records, registers, expenses, and other managed accounts are eliminated by implementing an integrated MIS system.
An Integrated MIS system help run an organization by allowing firms to measure operating costs, unexpected losses & profits, statistics, and fluctuations while maintaining the administration works such as offices, POS (point-of-sale) terminals & warehouse projects.
What is Integrated Accounting Software?
As the phrase suggests, integrated accounting software is accounting software that effortlessly blends and connects all primary business functions into one application without manual data manipulation or additional plug-ins.
In brief, it eradicates the requirement to maintain separate books and software applications for different functions such as ERP, CRM, HR & payroll, project management, job costing, inventory management & many more. It conserves time and effort and reduces the chances of any human error. The print MIS integration software also receives a constant data flow to keep print MIS up-to-date.
Regardless, accounting software for printing is gaining much popularity, commonly known as an integrated accounting system. You may ask why. Integrated accounting software offers many benefits that enable institutions to run and expand their businesses efficiently.
Advantages of Accounting Integration Software
Let us have a glimpse into some benefits of an integrated MIS system: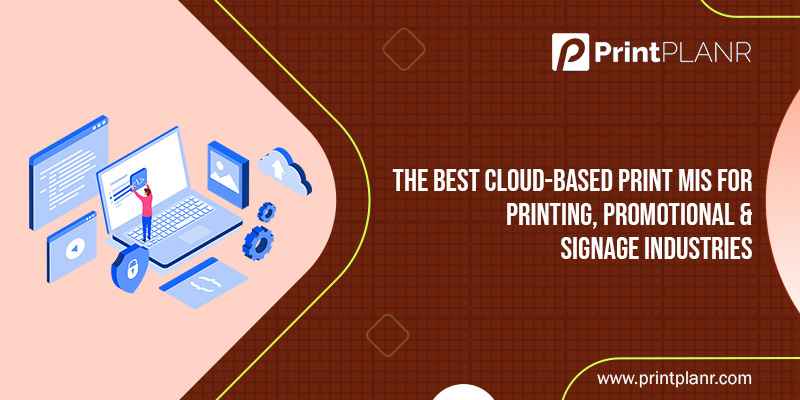 Eliminates Additional Plug-Ins

Print MIS accounting software for printing eradicates the requirement of additional & pricey software plug-ins to meet all your unique project requirements. Print MIS integration combines all features into one application.

There will be no more data manipulation or manual data transfer with print MIS accounting software, which lowers the risks of correctly passing or updating the system's information.

Supplies a Real-Time View of all Transactions

The main advantage of an integrated MIS system is exchanging & accessing information once in time with other systems & general ledger. Whole print MIS software uses & accesses one database to extract information.

The monotony of re-entering data from one device to another will reduce the chance of human errors. Print MIS integration also eliminates the need to connect separate functions & ledgers & automatically updates them in real-time.

Precise Job Costing & Prices

With this accounting integration software, we make sure the financial exchanges are up-to-date & financial reporting methods such as estimating transactions & job costing is carried out efficiently by purchase order management.

Similarly, maintaining one set of records stems actions from being replicated & furnishes decision-makers with reliable components at the right time, with no possibility of blunder.

Improves Data Entry Dependability

With standalone accounting software for printing, you must manually enter all the vendor's & customer's data from one application to another. This medium can result in incomplete entries or data duplication. So there is no reliability of data as these data entries are prone to human errors.

Data entry takes time & effort; using automated accounting integration software decreases the requirement for manual data analysis. An automated MIS accounting software dodges barriers such as numerous or overlooked entries & often identifies & incorporates the counterpart of entries.

Boosts Productivity at Work

The re-keying entries cost extra workforces & extra time. Moreover, it invites more human error that might go unnoticed & result in misinterpretations. By using an integrated MIS system, companies can use their time efficiently.

Reengineering an existing accounting integration software with another financial management system requires additional time. This surplus time can be helpful to devour company growth or new markets. Likewise, the print MIS integration ensures the dependability of the information & incorporates other benefits.

Accelerate Decision Making

The old-age manual data entry procedure needed for accounting integration software raises the chance that you won't have the updated financial data required to make quick & snappy educated decisions.

An integrated MIS system can avoid these issues and provide you with a real-time view of the transaction as they occur. The data from each module automatically flows into the accounting integration software as the transactions happen and stay updated at all times.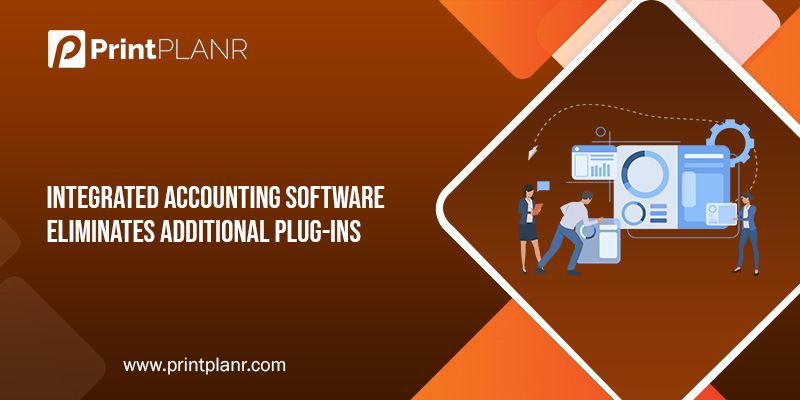 How to Choose Integrated Accounting Software for Printing
Nowadays, businesses of all sizes have embraced integrated MIS systems, and there are many vendors, customers & products from which to choose. Big tech giants might develop custom print MIS systems internally, although such systems are the most expensive & designed to work with in-house IT support services.
Integrated accounting software can be designed for various industry verticals or regulatory environments. When picking an accounting integration software, the business should have a clear idea of the goals that need to accomplish.
A few considerations might include what type of financial reports suits your business, long-term financial plans, and other specific features required to run the business process & how many end-users need to access the MIS accounting software.
PrintPLANR was built with its API to integrate with any print accounting system & the entire process of an integrated MIS system is handled by a team of skilled experts who take care of your financial data seamlessly without interruptions.
To find out more about PrintPLANR's invoice, payments & accounting software integration, feel free to contact our friendly team to efficiently make decisions to grow your print business rather than just running it.
---