PrintPLANR API is the Answer to Connect with any Third-party Software for Your Print Industry
Get our Print Management Software that allows API integrations using its very own API
If you are here, it means you know all about our print management solutions, or you have an existing print management solution and want to explore more; about how to adapt automation in all of your workflows via API integrations.
If, on the chance, you are still exploring and want to know more about Print MIS and Web to Print Solutions, the two most talked-about printing industry solutions, then we have got you covered too.
Well, if you are wondering how the custom print APIs for any print industry solutions bring in automation, then all you need to know is that APIs are the digital world's magical bridges that allow two or more applications to talk, connect and exchange data with each other.
This crucial data exchange through Print APIs plays a significant role in bringing automation into your Print Business.
Why is API Integration for Print Management Solutions Vital?
Every business requires multiple solutions to run efficiently, and the printing industry is no exception. And, most of the time, there is data overlap between the applications.
Inputting the same data in numerous applications leads to repeated data entries and wastes time, workforce and other resources. When you look at them in the long run, you could be wasting as high as 6 hours a week! The other disadvantage is data duplication and the increase of data dumps.
Although the issue seems minor now, imagine the amount of data a large-enterprise printing company deals with daily. It is enormous, and that is where APIs come in handy; they aid in eliminating repeated data entries, data duplication and human-prone errors and free the flow of information between applications.
With PrintPLANRs, Print API, you can connect securely to any number of third-party applications and get data exchange in real-time.
PrintPLANR Print API Connects With Various Applications!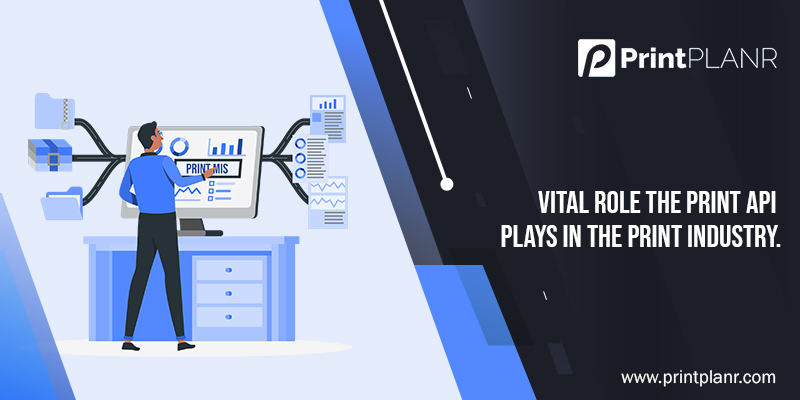 Although Print MIS and Web to Print are solutions that can work independently and cover all bases of running a print business, we understand that the requirements vary. We accommodate flexibility to the print industry solution via our print APIs.
You already have an application that you have been using for years and want to integrate with PrintPLANR to scale up your business, or you want to upgrade from your legacy system and still want to stay connected to retrieve the data on it, or, better, you want a single point of access to all of your operations through data centralization; whatever your reason is, we provide API integration services to make them happen.
Get Centralized data in your PrintPLANR Print MIS and drive your print business successfully.
Applications You can Integrate with PrintPLANR Print API
Workflow Management Software Integrations
Customer Relationship Management Software-Integrations
Payment and Accounting Software Integrations
Supplier Management Software Integrations
Shipping & Logistics Software Integrations
Email Marketing or any Marketing Software Integrations
Live chat or Telecommunications Software Integrations
Social Media Integrations
Other eCommerce Application Integrations
Business Intelligence Software Integrations
One can use our Print MIS & Web to Print API from PrintPLANR to connect with any third-party applications, and it is not limited to the above list. The third-party software integrations we provide come with high security as our API for printing management solutions have top-notch API management with the proper API documentation.
Advantages of PrintPLANR's API Printing Solution Integrations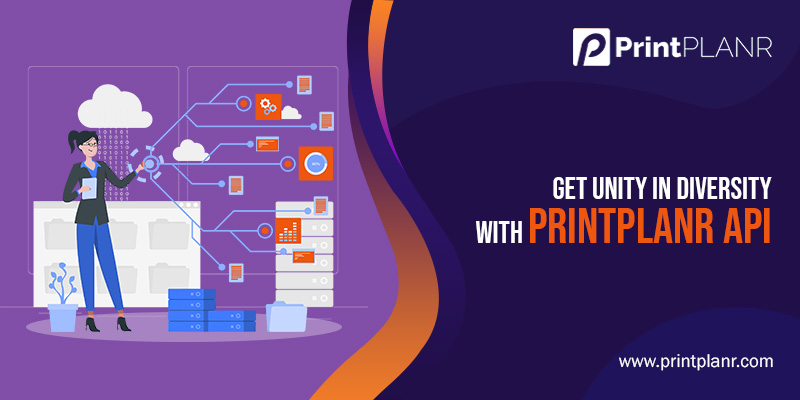 With a centralized print management solution that you can get through our API-printing management solution integrations, you get operational efficiency that comes with other advantages, including:
Increased productivity as it eliminates redundancy and brings automation.
Cost-effective as API integrations through our own API is easy and seamless.
Eliminates departmental silos by improving connectivity and smooth communication flow.
No losing of precious data to legacy systems
High customer satisfaction in your end-users through an integrated, easy-to-use platform.
Effective business decision-making capabilities through BI-embedded print management solutions.
Paving the way to monetization through digital assets for better revenue and business growth.
No limit to scaling your business as per your business growth.
Personalized print management solution that is not limited due to lack of API integrations.
A flexible print business solution that is always future-ready through its API.
The advantages are again not limited to the above list. We provide any number of customizations and integrations to our print management software and help you get a top-notch print business management tool.
Please Help Me Improve My Print Business Operational Efficiency!
---