How is PrintPLANR helping Printing Industries to scale up their Businesses?
Small or Large Enterprises, if you need Printing Industry Software, We have one that fits You Perfectly
PrintPLANR is an all-in-one Management Information System(MIS) software for printing industry, whether you are a promotional products industry, signage company, or print broker!
The PrintPLANR Print MIS solution comes integrated with an appealing and attractive online store called Web to Print Software. The W2P (Web to Print) software comes with its online design studio that allows the end-users to customize their designs before printing.
We speak more about how Print MIS helps increase your ROI and the key factors to consider about a Print MIS for extended reading if you are curious to know more about our Print MIS Software.
Also, we bring you tips to improve your online business productivity and why a web to print software is an absolute one of the new age industrial printing solutions you need to understand the significance of a W2P solution.
But, here in this blog, we are looking at how PrintPLANR, as a whole with its Print MIS and Web to Print, integrated printing industry software solutions help you scale up your print business.
PrintPLANR, the cloud-based solution helps reduce 80% costs when it comes to business software and provides the easiest print management solution
PrintPLANR Software for Printing Companies Provides Automation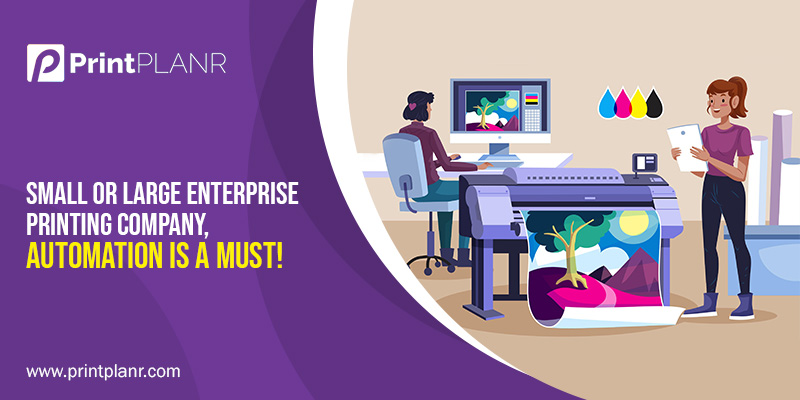 You think you are a small printing company and don't need any assistance managing the printing process. Now, let us see how running your printing press or publishing house without an external aid to manage all of the printing processes shapes and affects your print business.
Getting the order information right, processing and printing, invoicing and shipping, in short, involves inter-departmental communication. When the communication is delayed or when the required processes are delayed at any point, it impacts the delivery to your customer and ruins customer satisfaction.
We agree that it is not impossible to get things done without automation. But, at what cost? Human errors, longer turnarounds and cost-inefficiencies that end up becoming expensive over the years. When you put all of them together, the numbers are shocking!
Now, imagine if you could get all of those things done in less time, more efficiently and achieve greater productivity and increase your profit margin? That is what automation in your print business using industrial printing solutions looks like, and that is precisely what was on our minds when we designed and customized PrintPLANR.
MIS Software for Printing Industry: Is it a one-solution for all?
We have built PrintPLANR in such a manner that, whether you run a screen printing, digital printing, an offset printing press, or you are a large-format printing signage company or a print broker or print manager, this solution fits all.
Depending on the type of print business you run, we have custom workflows and modules that you can choose on a monthly subscription basis that guarantees a fast set-up of the print management solution. As a result, PrintPLANR truly is one solution that fits all printing industries.
How PrintPLANR Software for Printing Companies Aids in Scaling-up
Your Business?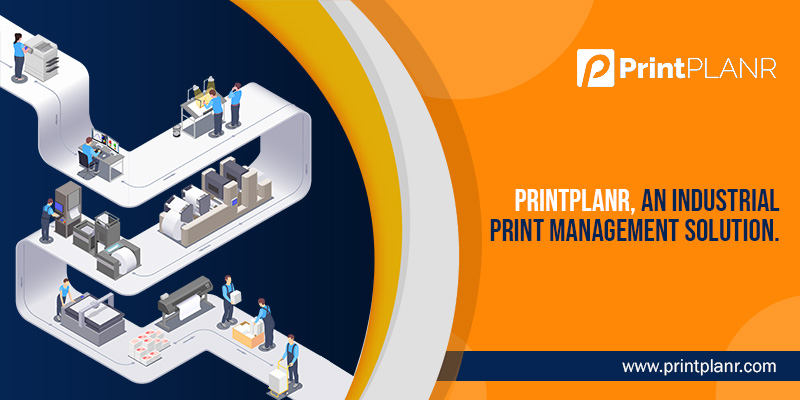 As discussed, the customized Print MIS and Web to Print solutions from PrintPLANR automate all of your printing processes and here's what you get as a result.
Easy Ordering:

The online print-on-demand store that comes with the W2P solution lets the end-user check out what they need from the comfort of their homes and the multiple options available for them to choose from, be it stocks, colours, designs and more.

Instant Pricing:

You don't lose customers while they have to wait for your staff to get back to them with a quote that could be prone to errors, time-consuming and get instant quotes as soon as they choose what they want and add it to the cart right away, ensuring a higher chance of lead conversion and retaining a loyal chain of repeat customers.

Accurate Estimates:

The quote generator that comes with PrintPLANR secures your profit margin by getting the current industrial prices for all print materials required.

This accuracy is possible as you get the option to update the base price yourself and the estimator in seconds, considering all the extra costs, including taxes, profit margin, amongst other factors, quotes accurately.

There is no room for overestimates or under-estimates, which is a significant customer retaining magnet.

Online Proofing:

The Web to Print solution includes an indigenous design proofing option that you can make mandatory for your end-users. The end-users must confirm that the design is intact before it finally goes for printing. You ensure no wastage occurs while printing and also get 100% customer satisfaction in the end.

Online Design Studio:

Allow your clients to express the inner artists in them and provide you with personalized designs for printing by uploading them or giving them the freedom to customize the designs with the online design studio. The more personalization you offer, the more memorable you make it for your clients and build long-lasting relationships with them.

Organized Printing:

The printing process involves multiple factors, including ink, paper or any other stocks, printing machine maintenance, stock maintenance and more.

You can keep a check on all of these things simultaneously without hassles in your printing process with the PrintPLANR-printing industry software solutions modules, be it stock manager, supplier manager, purchase order manager and job manager, with electronic job cards to assign jobs to and monitor and more.

Ensure On-time Delivery:

Ensure On-time Delivery: With the modules of our software for printing companies, including dispatch manager and shipping manager, you can guarantee on-time deliveries and get efficient logistics management. And assure your clients by giving them the option to track their packages in real-time.

Business-Ready:

Our management printing industry software has an intuitive business intelligence module that provides crucial business insights with easy-to-understand dashboards. You take the right decisions at the right time and never lose on any opportunities.

On-Demand Customization:

Want more options? How can we say no to that and limit the printing industry software? Just tell us what you need and we will get it up and running for you. You can even integrate third-party existing software solutions that further ease your business workflow management.
As a result of all the above, you get an integrated interdepartmental digitalized medium that saves time, improves communication and bridges the communication gaps. At the same time, it also increases productivity, creates fewer human-prone errors, helps future-proofing your business and scale it up.
Talk to our friendly PrintPLANR consultants and know how best to integrate it with your large enterprise or SME printing companies; get the set-up done and enjoy automation in your print business and increased operational efficiency.
---