What is Print MIS?
A brief introduction to Print MIS and an overview of
PrintPLANR's Print MIS
Print MIS or Print Management Information System is a solution package of effective modules that serve your every need to manage your print industry requirements. The software provides a 360-degree view into your business, helps gather, analyze, track, and manage data/information to streamline your workflow processes.
Manage your customer data, estimates, job production, scheduling, order fulfillment, shipment, invoicing and accounting, and much more from one platform. A SasS-based cloud Print solution brings down not just the expenditures of your printing business but improves the work performance and thereby gradually increasing the ROI.
In short, Print MIS software helps you stay organized, communicate better, and keep you informed and make insightful business decisions. Hence, choosing a Print MIS solution becomes crucial as the right system can make your business efficient, and the one that does not fit your business needs can break it.
The key features of a Print MIS system
Print Estimating

An ideal print estimating software solution should consider all the factors affecting the print job accurately and provide a quote that does not overestimate or underestimate the job-costs.

Overestimating the job costs results in non-competitive quotations, and underestimating the print job costs will lead to cutting down profits.

The Print MIS software from PrintPLANR not only generates accurate quotes but also automates the process with pre-defined templates while considering all the relevant factors for your prospective clients.

Print Job Management

A job management software solution should provide a holistic view of the whole workflow process and provide stock alerts, deadline alerts, monitor work progress with progress alerts to aid the projects' smooth running.

The Print job management feature takes care of every step of the workflow from scheduling to monitoring the progress with the help of the electronic job cards until the projects' culmination.

PrintPLANR's job management feature is an end-to-end solution to track and manage the print workflow processes from quoting, scheduling to shipment and invoice generation.

Stock Management

Maintaining the right stock at the right time is one sure-shot way of preventing unseen losses due to a shortage of resources and increasing your profit margin.

A stock management solution takes care of the production and balances the delivery demands while monitoring the purchases and the completed projects.

The Stock Management feature of PrintPLANR provides a complete warehouse management system that helps categorize items, maintain records of stock opening and usage, low stock alert/reminders for replenishment/purchases, templated purchase orders, and more.

Accounting & Invoicing Management

As far as automation is concerned in managing the invoices, smooth integration between the Print MIS software and accounting software is a must.

The software solution will have to create proforma invoices and send them across to other accounting platforms as per the settings chosen.

With the Invoice management feature, you get the freedom to create and choose how you want to share the invoices and record payments seamlessly.

Customizable features

A fully customizable workflow management system allows for custom pre-press, press, and post-press workflows. The software also provides selective access based on user roles.

This should be a pre-requisite for any workflow management software as the Print Management Infomation system is only useful when it matches the business requirements.

PrintPLANR's Print MIS was designed keeping the above things in mind and provides the user with email management to integrations for shipments and accounting software of choice.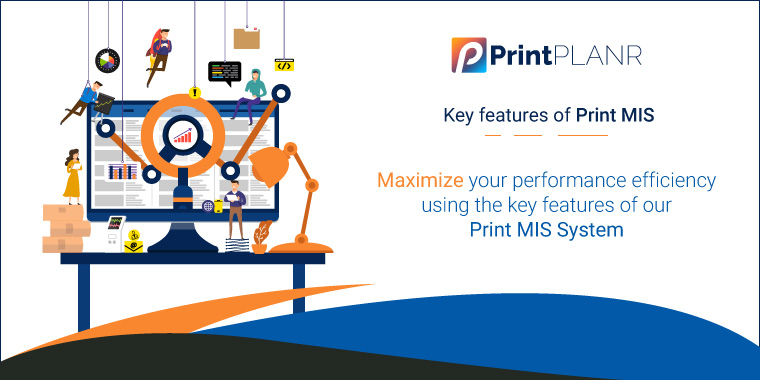 Why Should you have Print MIS in your Business?
An effective management of Man-Material-Machine.

Be it a Digital, Offset, Signage, or any other printing company, a Print MIS Solution to work suitably requires a well-analyzed and customized workflow system that defines the perfect methodology and equilibrium between a man's skill-the workflow design-and the technology.

The Print Management Information System from PrintPLANR provides this precisely and seamlessly connects the 3 M's (Man-Material-Machine) and improves the print business's overall processes and performance efficiency.

Time and cost-efficient

The Print MIS software solution customized to match your print business requirements allows streamlining and automation of all the tasks that reduce the workforce energy and save time and cost. Automation helps in providing a competitive advantage over the others. Also, the Print MIS system helps your business go paperless and again saves resources.

Better insight into your process & data using dashboards & reports

The workflow management software does ease the workflow processes and does more! It provides a complete view of all the jobs that are in progress and monitors a job's status from its beginning to completion.

Print MIS also maintains a record of the job requirements' history and provides predictions from stocks to other requirements for similar jobs, helping you always stay prepared and avoid shortages and concurrent losses.

Opportunity to grow your business

The Print MIS software organizes your business workflow, prevents any blockages and hindrances, increases your overall performance and ROI, and makes your business profitable. The Print MIS solution helps you scale up your business and is scalable to fit the business needs.
What factors to Consider before Buying a Print MIS?
Cloud is the present & future, so a future-proof cloud solution for your Print MIS is necessary.
Setup time – Most companies do not help set up, and the client ends up buying the software & not implementing it. Hence making sure to enquire the full spec of their support during the setup becomes necessary for a successful implementation.
Customization – Every business is different, so customization is the key. To discuss your business's workflow and customizing the Print Management Information System as per the requirements is crucial for it to be a useful and productive investment.
Integration – Not one software can do everything, but it saves time by eliminating manual double entry if they integrate with others. Integration also negates manual errors and saves workforce energy.
Support – The Print MIS solution provider should provide a document with a few instructions and have some account manager to talk to when you require their assistance.
Existence – The solution provider should have been in business for quite some time and should have a good reference. The years of experience are invaluable when it comes to providing out-of-the-box, unique customizations.
The Print MIS you choose should have a SaaS model – you do not have to worry about server, backup, upgrades, etc., which is cost-efficient and infrastructure-friendly.
Why choose PrintPLANR - Print MIS
PrintPLANR – Print MIS is feature-rich and addresses all of the above and more.
The SaaS Print MIS software is cloud-based. Hence gain the advantage of accessing it from anywhere, anytime.
The Print MIS software is customized, so it saves time in setup and implementation.
With the SaaS model – You never have to worry as we take care of everything.
Integration – Integrates with Shipping, Accounting, Payment, Warehouse, CRM, Marketing, and other modules. Plus, it has its API.
Has it's Web2Print further to offer an ordering platform for B2B and B2C
If you further need assistance in understanding the Print MIS that your business needs, reach out to our experts at PrintPLANR.
---