Best Use Of Print Management Software
What is Print Manager Software?
Print management software is a solution that's specially designed to streamline and enhance the overall efficiency of printing operations in an organization. It allows the administrator to monitor, control, and manage the print queues. The print management system tracks and analyzes printing activities and provides insights to reduce printing costs.
Print management solutions often provide reports on environmental metrics, such as the reduction and saved number of trees and carbon dioxide emissions. These reports are a valuable asset for companies that seek to demonstrate to the public or stakeholders their environmentally sustainable operations.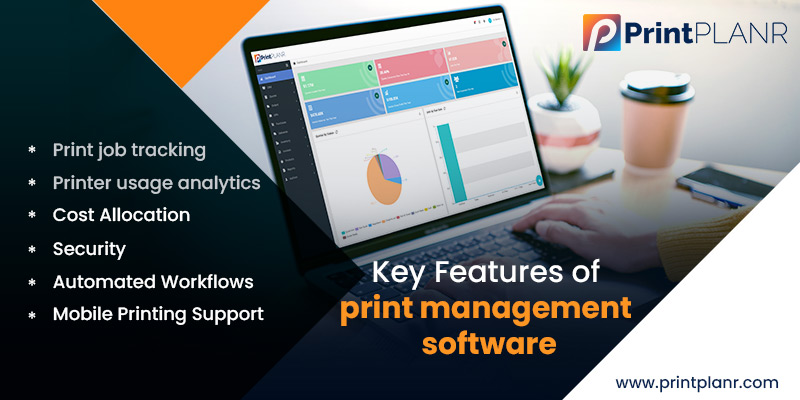 These features aid organizations in streamlining printing procedures, cutting expenses, improving document security, and promoting efficient and sustainable printing techniques.
Print job tracking:

Regular monitoring and management include who prints what and when.

Printer usage analytics:

Offering insights about printer usage patterns to assist corporations in making wise decisions.

Cost Allocation:

Allocating print budgets to specific users or departments helps in budget management.

Security:

To protect crucial papers, restrictions on unauthorized access is authentically prohibited.

Automated Workflows:

Streamlining operations involving print-related processes, such as transferring prints to the most affordable printer.

Mobile Printing Support:

The most comfortable option is allowing users to print directly from their mobiles securely.
Why Should You Use Print Management Software for Your Business?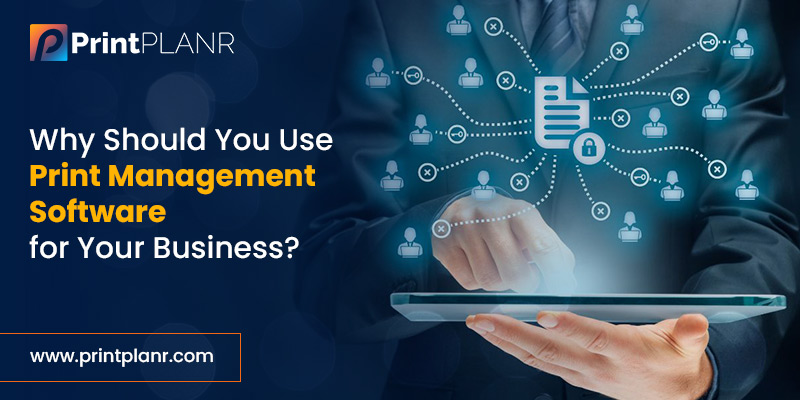 In this digital era, paper processes are replaced with computer software and digital documents. You should consider to use print management software because it promotes sustainable and secure printing practices.
Print management software can optimize your printing operations, improve security, and reduce expenses through centralized oversight, monitoring your company's tasks, and checking on insights.
Hence, print software leads to enhanced efficiency, eliminates manual tasks, and allows employees to work on their main tasks instead of spending the whole day on print-related issues.
Optimal Utilization of Print Management
Print management software offers highly secured data files, as nowadays anyone can breach into your system and steal all the data even without your permission. They also offer robust security and protect sensitive information.
Another feature is the "user authentication card." Using this, only authorized people can access the card and release print-related jobs. The sensitive data is transferred while being safe.
Cost Reduction and Optimization
Controlling and lowering are the primary reasons why companies use print management software. Businesses can drastically reduce unnecessary printing costs by tracking usage and enforcing print limits, which can save both money and time.
Additionally, print management solutions frequently offer in-depth analytics on printing behaviors, enabling organizations to focus on areas that require extra care and ensuring cost savings.
The ascent of remote and hybrid work setups has enhanced the remote management of print system essentials. The print management software has made work much simpler. Now the IT administrators can fix and troubleshoot any issues from a remote mode or from anywhere. This ensures that the remote workers have full, reliable access to the printers.
The capability is specifically crucial when the organization has multiple locations and the remote workers are spread across the regions. This will ensure that the connection does not disrupt the workflow.
The printing software helps to streamline productivity and cut down printing costs. Companies may free up IT resources by automating common print-related processes.
The main highlight is that the employees can print directly from their smartphones or tablets by connecting them to the printer, which increases flexibility and productivity. Employees can securely access the print system from anywhere.
Compliance with industry-specific rules is crucial in highly regulated sectors like finance and healthcare. The print management software is specially designed for its compliance and audit trails of print activities. These audit trails can give information about when the document was printed, what was used and printed, and who printed the document.
Having this level of documentation on hand can be very helpful in cases of auditing or compliance inspections. The primary goal is to prevent any legal complications and save both time and money. This is also the key for businesses to maintain transparency and accountability.
Choosing the perfect print software company is significantly important, just like hiring new employees. PrintPLANR's software solutions help organizations make the right choice and help in decision-making, which leads to cutting unnecessary expenses.
Organizations that are willing to contribute to the environment, reduce costs, enhance security, improve print-related queries, and promote environmental sustainability will find this print management software necessary and crucial.
Invest in PrintPLANR's software and begin a whole new revolution in the world of printing!
---