Do You Really Need A Print Management Software To Run Large Format Digital Prints?
Wide Format Printers Usually Struggle With the Complexity of Print Jobs
Wide format printers often struggle with the complexity of print jobs that involve multiple requirements, such as wall graphics, floor graphics, and signs. These diverse needs typically require different types of inventory, posing a challenge for traditional printing processes. However, an enterprise-level large format printing software comes to the rescue by providing quick and automated solutions for estimation, job production, invoicing, customization, inventory management, and more.
Print Management Software is A one-stop solution for all Your Printing Needs
Print management software takes on a new role when integrated into regular workflows, automating tasks, and streamlining operations. The highly modular nature of wide format printer management software offers the flexibility to select and pay for the specific modules needed, making it an affordable print management solution for businesses of all sizes. PrintPLANR, a customizable and modular print solution, caters to the automation needs of large format printing.
A single print management information system (Print MIS) can serve all types of printers, including digital, large format, signage, and even print brokers. With PrintPLANR's cloud-based wide-format printing software, accessed from any internet-connected device, users can conveniently browse and utilize the print management solution.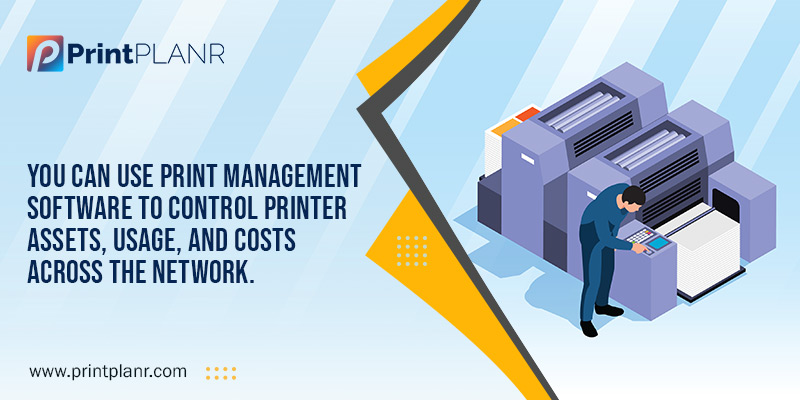 So how can print management software help automate large format printing?
Implementing a print MIS solution automates workflows, streamlines tasks, and enhances employee performance. By going paperless, businesses can increase productivity and efficiency.
Web-to-print is a key feature that seamlessly connects customers with printing services. With web-to-print modules, print jobs can be processed smoothly, establishing a direct connection between customers and printing businesses. Wide format printing software automates multiple manual steps, ensuring that customer prints are delivered on time, every time.
An online design studio is another valuable tool provided by top-notch wide format printer management software. It offers customers online editing tools, allowing them to view, edit, and preview print designs before placing an order. Making previews mandatory helps avoid any customer orders that could result in losses for the business.
To save time, an auto-approval system can be set up for orders from trusted customers. Manual order approval is also available, providing the flexibility to adapt the backdrop of automation as needed. These features contribute to faster print job completion with wide format printer management software.
Limit Access Permissions:
Based on user roles is an essential security feature provided by PrintPLANR. With this versatile print solution, businesses can control and safeguard confidential information according to their specific needs.
A professional online presence is crucial for attracting customers. Software for large format printing offers a professional online store with modern ordering options, assuring customers that the job will be completed reliably.
Real-time Information for All:
Thanks to PrintPLANR's centralized system, all departments within a wide format printer management business can access the same real-time information. This enables company decision-makers to make well-informed decisions based on accurate and up-to-date data.
By adopting print management software, there is no longer a need to invest in multiple software solutions for tasks such as CRM, estimating, scheduling, variable printing, digital asset management, and print design. Print Management Software offers a comprehensive and versatile package, including features like purchase orders, supplier management, and automation for large format printing.
Large format printing software offers numerous benefits for corporate-level organizations: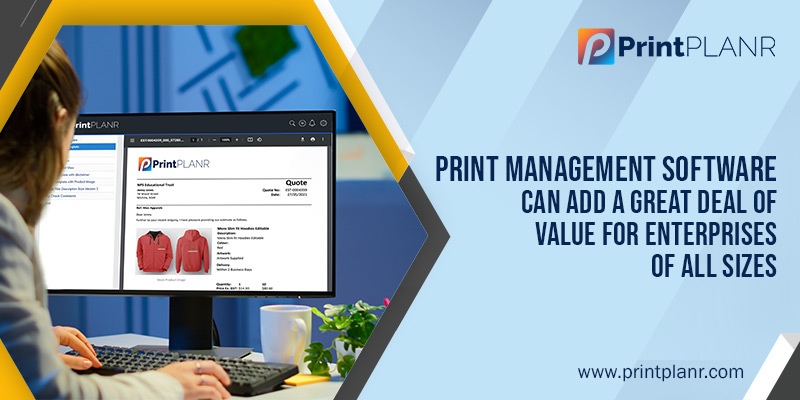 The software provides detailed insights to increase productivity and minimize printing costs. It streamlines workflows, enhances energy efficiency, and identifies security risks within the print environment.
Wide format printer management software saves employees time by monitoring day-to-day issues like hardware repairs, toner levels, maintenance, and software updates. It provides complete print spending reports, facilitating accurate billing to clients.
Workflow Optimization and Automation
Automating print job delivery eliminates waste, reduces costs, frees up office space, and saves time. Print MIS software offers workflow optimization and automated alerts for regular repairs and maintenance, minimizing turnaround time and enhancing the customer experience.
Wide-format printer management solutions offer organizations robust security features, protecting against potential vulnerabilities and ensuring significant cost savings. By automating processes, a large format print management solution empowers businesses to save both time and money while effectively reducing risks and increasing overall productivity. Additionally, large format printing software enables secure authorization for printing assets, ensuring confidential and sensitive information remains protected.
A comprehensive large-format printing software supports wide-format printing and provides extensive reporting and monitoring capabilities for all print assets within a business. This functionality is essential for efficient supply delivery and timely support. With wide-format printer management, businesses can enjoy top-notch customizations tailored to their specific needs, including tracing capabilities, device information tracking, print job cost analysis, and unique invoicing modules. These features enhance wealth management within the printing business, optimizing resource allocation and maximizing profitability.
With the versatile PrintPLANR software for large-format printing, there is no longer a need to invest in multiple software solutions to handle critical areas such as CRM, estimating, scheduling, variable printing, digital asset management, or print designing. PrintPLANR offers a comprehensive solution with modern features that cover various aspects of the printing business. In addition to its functionality, PrintPLANR also provides features like purchase order management and supplier management, further streamlining operations and ensuring efficient workflow. For a more detailed understanding of our wide-format printer management software and its capabilities, we encourage you to reach out to our team for further discussion.
---