Enhance Business Production Visibility With Print MIS Software
The Necessity of Print MIS to Improve the Business Operations
The print management information system (MIS) is increasingly adopted to improve business operations across the printing, signage, promotional & print broker companies.
Print MIS software significantly acts as the backbone of enterprise operations. A print MIS software for the printing industry will gather data from various online systems, analyze the info & report data that help influence & plan business decision-making.
Authentic planning can span many enterprise functions, including marketing, sales, profits, inventory control, cash balances, & document flows. Overall using MIS systems for printers boost the profits & value of their enterprise.
Various modules & features of a print MIS system will enable the users to produce CRM, estimating, job production, E-job tickets, purchase, inventory, dispatch, invoicing, dashboards, reporting, customization & integrations in an easy to use platform.
A Quick Look at the Benefits of Print MIS Software
A print management information system's ROI doesn't measure in terms of money. Printers see many significant factors that lead to the advantages of a print MIS system.
Simplify the business operations by reducing workflows from covering production rounds & quotes requests to billing & shipping.
Expand your business & meet the ever-increasing needs of your customers by allowing the production workflows & your jobs to work together without manual interference is vital to revving profits.
Know the quality of your print job from every stage, right from production to distribution, through alerts & notifications.
Get access to increased productivity of employees.
Seamless communication between the departments.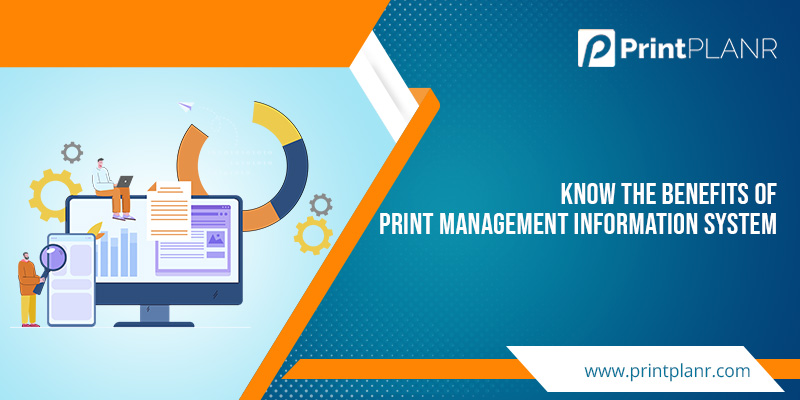 Adopting a Print MIS software for the Printing Industry is Essential to Your Production Visibility & Business
Print MIS is a leading software in the print industry created by PrintPLANR & we regularly face the issues dealing with some printers when deciding whether to adopt an automated approach to their business workflow operation.
We are aware of concerns about support, cost, maintenance, onboarding, and much more. Yet, this point of view brings us fundamental changes happening in the MIS software for the printing industry.
Digital printing has changed everything by driving down the costs, enabling customizations & reducing lead times, but most significantly, it has changed the expectations of print customers.
They are growing familiarized with neat design, one-stop-shop & on-demand, expecting their suppliers to be technically savvy, customer-focused & competitive prices. Competing in the future will be inconceivable without adopting print MIS software for the printing industry. Here's why:
Eliminates Inefficient Manual Operations

Conventionally manual ways of operating an MIS software for the printing industry are too expensive, inefficient & time-consuming. Whiteboards, Sticky notes & Excel spreadsheets are opaque & error-prone. So using them, it is impossible to understand job status, cost & overall business.

Print management solutions like PrintPLANR, a web-to-print software integrated into one solution, automate labor tasks & reduce manual touchpoints efficiently. Enabling jobs to be automatically directed to suitable devices & people at the right time.

Hence, the requirement of fewer resources & enhancing workflows is necessary, which results in shorter delivery times, better quality & increased customer satisfaction. Overall increasing profitability in a world where print jobs are smaller & profit per project declines.

Enhances Digital Integration

Print MIS systems for printers already integrate with multiple customers, vendors, equipment, and applications, so integration will accelerate even more in the future with customer demands for customization & secures printing technologies like inkjet.

The ongoing advancements in IT, including Cloud & AI, will quickly accelerate its underway. Like PrintPLANR's print MIS software represents the central core of these future & current integration efforts & the digital expertise to implement them.

Thus, connecting all the different functions of the business, including production, estimation, business development, shipping & customer management.

Supplies Real-Time Business Intelligence

There will be more competition in the future. It will be larger and more sophisticated, so in-depth analysis, real-time & accurate business intelligence will be vital for its success. And this is the most significant advantage of PrintPLANR's MIS software for the printing industry.

Delivering operators with a translucent view of operations across numerous locations & multiple lines of business enables the enterprise management team to accurately handle all the operations from production slots, staffing, work schedules & stock levels.

To determine customer needs, SLAs & estimations, all data they have from their MIS systems for printers should be up-to-date, reliable & accurate.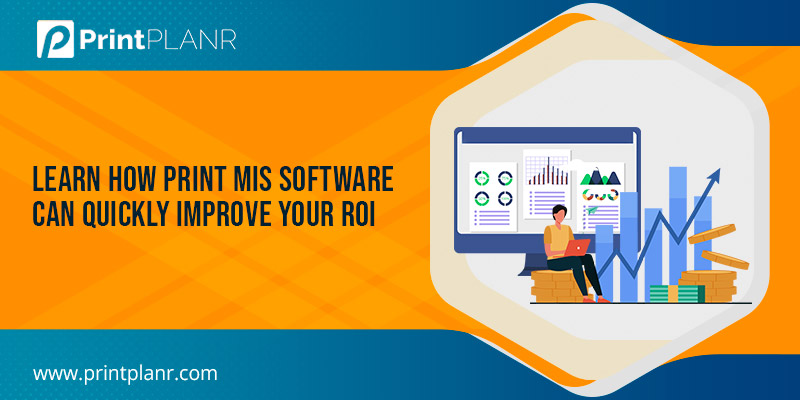 It's Time to Adopt a Print MIS Software for the Printing Industry

Adopting print MIS software may not seem as natural as purchasing a new printing press, so it is high time to consider it because the trend in the digital process has inherently changed the printing business.

Many print businesses that were competitors have already been abolished, and customer expectations have changed. Thus, modern technologies & IT advancements are essential for vendors, customers & printers.

Embracing a print management information system does two things, firstly provides a vital tool for running a print business efficiently & competitively. Secondly, it jump-starts a competency in print MIS technology necessary in the future.
Handling a print shop can be frustrating if you have to maintain various applications, spreadsheets & databases to run a company. PrintPLANR is instinctual that everyone can track progress, create job tickets, checkout, payment integration & order tracking with basic training.
Produce more jobs without employing more people & have the confidence of knowing your print job cost with 100% certainty & easy to use. Talk to our friendly team to know how Print MIS and Web-to-Print will work in your print industry environment.
---