10 Reasons Your Print Business Should Use Print Management Software
Print Management System is Necessary to Streamline Business Productivity
Are you finding it challenging to organize and manage your print job life cycle? It would be best if you had robust software to facilitate the complexity of workflow and eliminate blunders that cost you while customer retention.
Software for print management can help your business understands the printing environment and integrates it into one platform to take care of your business needs to ensure maximum financial benefits. Let us learn about what is print management software and the different reasons to adopt print MIS for your business.
What is Print Management Software?
PrintPLANR's print management software is a cloud-based SaaS solution designed to quickly and reliably centralize the print management processes. It is efficient, affordable and a game-changer for enhancing work efficiency, profit margin and ROI.
Our integrated workflow management software customizes your business requirements for wide-format printing, digital, offset, flexo, packaging, promotional, apparel, label, signage & other printing industry sectors.
Top 10 Reasons to Adopt Print Management System For Your Print Business
Here are the top 10 reasons businesses choose print management software to reclaim their business growth.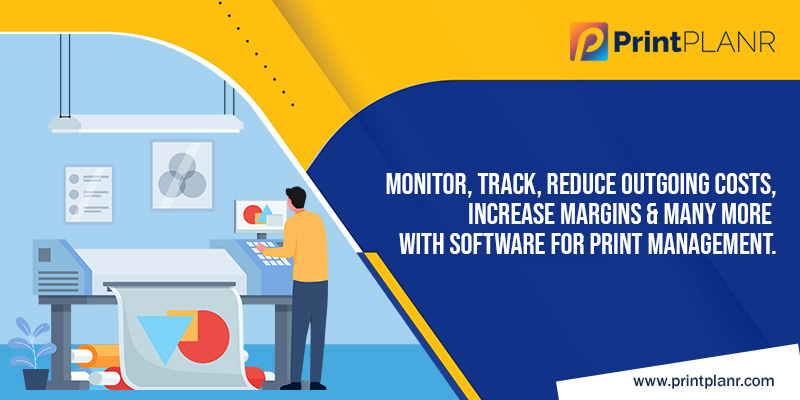 SaaS-based Cloud Printing

As a SaaS-based cloud solution, print MIS software helps handle the key operational functions in the print life-cycle while lowering the complexness of the workflow and eradicating mistakes that cost you your customer retention.

Many enterprises are using SaaS-based software more than ever. These SaaS-based solutions often create 'server side' print jobs delivered to remote users. Instead of using a VPN with several drawbacks, customers like to incorporate server-side print jobs delivered securely and safely over the internet.

Track & Review Usage

Software for print management produces many reports in HTML, PDF & Microsoft Excel (.csv) formats. Using a print management information system, you can track and review the address of all print jobs, including fax, copy, scanned management areas, detailed user logs, various department devices and environmental effect overviews.

You can track, monitor, and review access reports from any device with the supported web browser or schedule them to generate automatic reports to your email. Another helpful feature is to customize your report with a header & create reports by specifying and filtering available data with date ranges, time, assigned task, device, print job, and much more.

Protect Your Device & Documents

Using print management solutions, you can protect your essential documents and devices securely with authentication. The automated system also eliminates the volume of unidentified printouts by guaranteeing end-users release the print jobs at printing on a specific device.

Print management software will secure your network from external conflicts by providing user authentication before printing, confirming that only official users can print and collect confidential documents. You can also approve managers or system admins to allow having a print job securely and efficiently.

Daily Oversight & Insight

When installing print management software, you can organize day-to-day tasks to keep a close eye on your devices and print environment. The print MIS software can help monitor and maintain devices, repair, automate supplies replenishment, and update software.

To identify workflow issues and start cutting costs, you must know the current process expenditures. Print management software can evaluate print volume, audit devices, and propose plans for optimal workflows.

Access to Mobile Printing

Print management solution providers extend their capabilities by including standard modules including quoting, CRM, dispatch, invoicing, inventory, job management, and much more. Our print management solutions allow users to print from any device and bring their device to get their print job done seamlessly without interruption.

Print MIS is a one-stop solution for your print job. Whatever your brand of printer, file format, operating system, or location, you can solve all of these functionalities, incorporating it into the accounting, quota process and print charging.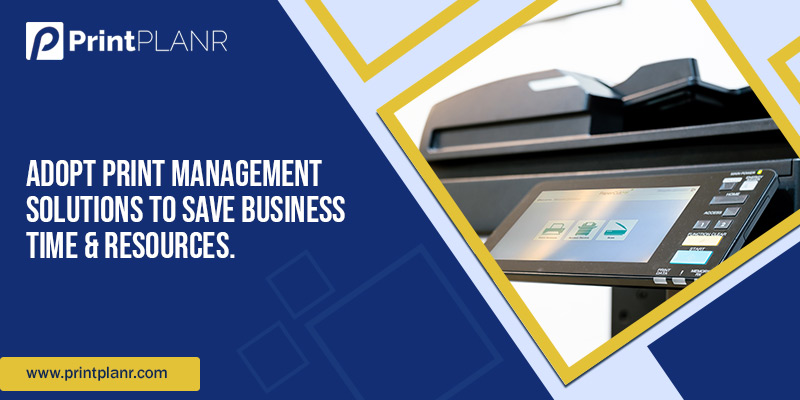 Acts as SPOC

Print management software acts as the single point of contact for administration. You can access browser-based authority to advanced administration, network location and configuration options in a friendly and involuntary user interface.

Web2print comes as a different module, fully incorporated with the PrintPLANR Print MIS module, and can be proposed to retailers (B2C) and Corporate (B2B) customers. So end-users can access web tools regarding queries, tracking activity in real-time, transferring credits to other print users, and viewing transactions.

Improved Print Statistics and Processes

Print management software helps speed up customers' print jobs by automating their work. Your employees can work quickly and efficiently by turning daily prints and forms into digital workflows.

Our print management statistics help our customers know who is printing, when, and what. Additionally, print statistics let customers know how many printers are working in real-time and how many printed pages are. Furthermore, this helps with engaging cost-saving strategies.

Fast Turnaround and Availability

Our print management system is designed for various industry verticals suited for signage, promotional, and print brokers companies. It had a robust strategy to strengthen service by integrating application servers and databases, regulating data flow, and automating failproof encryption against SPOC.

Integration With In-house IT Systems

The cloud-based Print MIS solution, PrintPLANR, has a customizable web interface that seamlessly integrates with the in-house intranet with a fully documented API and scripting interface and connects securely with other IT systems.

Scalability of Networks

Over the years, PrintPLANR has incredibly evolved to take care of the challenges of its management and print business. The architecture and design provides scalability for networks of all types and sizes and supports hundreds to thousands of users without interruption.
PrintPLANRs cloud-based software helps your business focus on core competency while letting the software manage all other management processes such as ordering, quoting, fulfillment and procurement. We offer the best Print MIS solution in the print industry with a free consultation and demo. Contact our friendly team to uncover more about print management software.
---