How to Find the Best Print MIS System for Your Business
Key Features of MIS Software for the Printing Industry
Job Tracking :

The best print MIS system enables you to monitor and track your progress from the basic initiation to completion for better workflow management.

Inventory Management :

Reducing wastage helps you monitor and track the printing materials efficiently and most importantly, it ensures timely restocking of materials.

Production Scheduling :

Scheduling production is one of the best features of the MIS software for the printing industry, as it helps you to produce and organize the print production to not only optimize resource utilization but also help you meet deadlines.

CRM :

Customer Relationship Management (CRM) helps you track customer preferences, manage customer interactions and boost customer satisfaction.

Integration with Designing Software :

Seamlessly integrate with designing tools for smooth file transfers and precise reproduction of printing jobs.

Collaboration Tools :

The best print MIS system enables open communication and collaboration among the team members for enhanced productivity.
Choose the Best MIS Software for Your Print Business in 10 Simple Steps
Identify your specific workflow requirements including the size of the business. These challenges need to be addressed with the Print MIS system and the number of printing devices in your company.
Consider the integration requirements with other software used in your business.
Determine the budget for your best print MIS software. Also, consider the initial costs of installation, including initial setup costs, license fees, ongoing maintenance costs, and training expenses.
When you are looking for Print MIS system service providers, always remember to take time, do your research and ensure that the service provider you choose is the best. Consider well-established companies and the market competition before making any irreversible changes.
Always read the reviews, testimonials, and case studies to see how the systems have worked in the hands of other companies.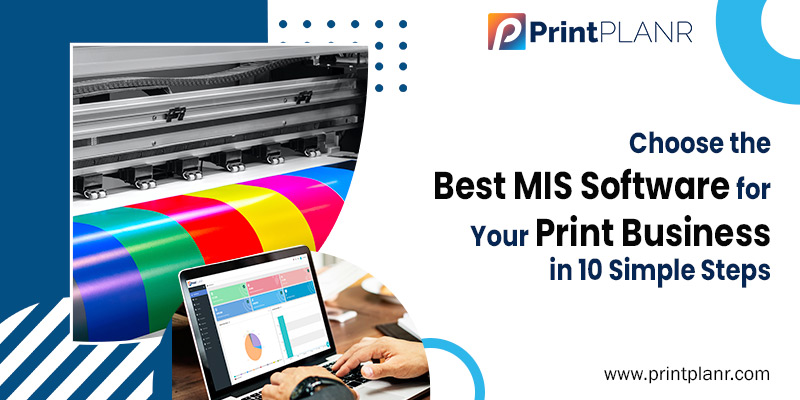 First, make a list of all the features that are important to your business. These features can include:
Job Tracking
Estimating Budgets
Order Management
Inventory Management
Reporting Capabilities
Now compare all these features with the list of the best MIS software service providers and rank them accordingly.
Make sure that the Print MIS system can grow with your company. It should be scalable in terms of print volume, user count, and additional features as your company expands.
Choose a company that can handle all the rapid changes and can provide you with the advanced features that can help your business grow.
Integration with Already Existing Systems
Check if the Print MIS system works seamlessly with your existing applications, such as design software, accounting systems, or CRM tools. Integration can improve the efficiency of your business and eliminate data entry errors.
User acceptance is the key to any technological implementation's success. Give priority to technologies that are easy to use and intuitive. Users may become resistant to a complicated interface, which would reduce the system's efficacy.
Always seek methods that reduce your team's learning curve and streamline procedures.
No two companies are the same. When seeking a Print MIS solution, opt for one with a wide range of customization options. Customizing the system to align with your company's operations ensures a perfect fit and increases the system's efficiency in fulfilling your specific requirements.
An important factor to take into account is the degree of support and training that is offered by your service provider. An intensive training program is necessary to make sure that everyone in your team or company can fully utilize the new technology.
Furthermore, prompt customer service is essential for resolving any problems that can occur during installation or regular business operations.
Data security and compliance are non negotiable in this digital era. Analyze to see if the Print MIS system meets with privacy and data security laws and other industry norms. This is especially crucial if your company deals with private customer data or works in a regulated industry.
Consider exploring the potential of a demo or trial period before making a decision. Through this hands-on experience, you can test the system in a real environment, ensuring it fulfills your needs and aligns with your company processes.
Finding the best Print MIS system for your company requires a thorough and strategic approach. PrintPLANR's MIS software for the printing industry can offer you the best quality services. You can make an informed decision that aligns with your business goals and sets the stage for improved print management efficiency.
With PrintPLANR you can assess your needs, set a realistic budget, research providers, prioritize features, and consider scalability, integration, user-friendliness, customization, support, security, and real-world feedback. Plus, you also promote environmental sustainability.
By choosing PrintPLANR, you not only make a positive impact on our planet but also secure the best MIS software for your business, witnessing its thriving success!
---