Is Your Print MIS Software Up-To-Date With Modern Tech Standards? If not, time to change!
In this business world of technological revolution, adaptability is the key to survival. Print and signage industries have undergone many changes in the past few years and altered to different software with various features, such as automation, to keep the business process robust and reliable.
Are you still relying on the traditional Management Information System? You will surely miss the flexibility and efficiency that modern technology can offer. It is now time for you to migrate and update to the new technology, where efficiency and flexibility can reach previously inconceivable heights!
Let us explore more about the management information system and the need for migration to the new cutting-edge MIS software for the printing industry with PrintPLANR.
Evolution of MIS software
The print management information system, also known as MIS software, has come a long way. Modern MIS software was initially designed to perform simple administrative activities, but it has evolved into a comprehensive tool capable of streamlining and improving every aspect of your business.
Here are some of the features and benefits of MIS software for the printing industry: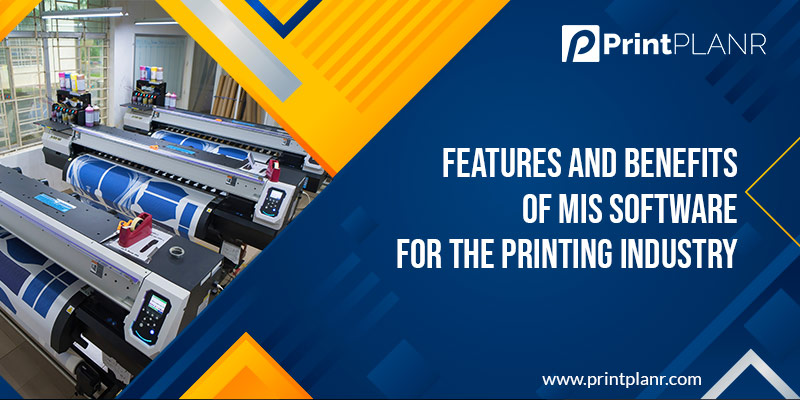 These different kinds of modern software, related to print MIS software are cloud-based software applications that are versatile, safe, and easily integrated into other software systems.
It comes with various features and functionalities, such as real-time information across the system and avoiding manual entries.
This system also provides access to certain AI features that can automate business processes and quickly load the system.
It gives you a comprehensive understanding of all your data and available jobs, allowing you to rise to the top of the demand-supply.
Shortcomings of outdated MIS software
Utilizing obsolete print MIS software is similar to employing an outdated Operating system that is weak and vulnerable to attacks.
Here are some of the drawbacks of an outdated MIS:
Inefficiency:

Traditional print MIS software is slow and requires a lot of manual work. As a result, workflows and procedures became inefficient.

Rigidity:

Outdated MIS software is not adaptable to the changing market conditions and customer needs.

Poor Integration:

Many legacy MIS software programs struggle to integrate seamlessly with other tools and software. It fails to integrate information across departments and systems, customize reports, and generate them for the dashboard.
Meeting the Modern Tech Standards: PRINTPLANR MIS Software
PrintPLANR MIS Software, founded in 2011, published its first commercial version in 2013. Since then, it has been regularly updated and developed in response to progressive technical trends.
Using old print MIS software with outdated standards may slow the entire process and cause delayed outcomes. You might not have a clear idea of how everything works in your company.
PRINTPLANR MIS Software is well-known for its adaptability and integration capabilities. Regardless of the size of your printing company, the management information system is customized.
From customized dashboards to workflows, we maintain distinctive criteria to ensure that you have complete control over your operations, which can unlock the following benefits:
PrintPLANR automates time-consuming operations like billing and job scheduling, allowing for the use of AI features. Despite saving time, it reduces errors and functions quickly with the most recent technological developments to provide seamless operations.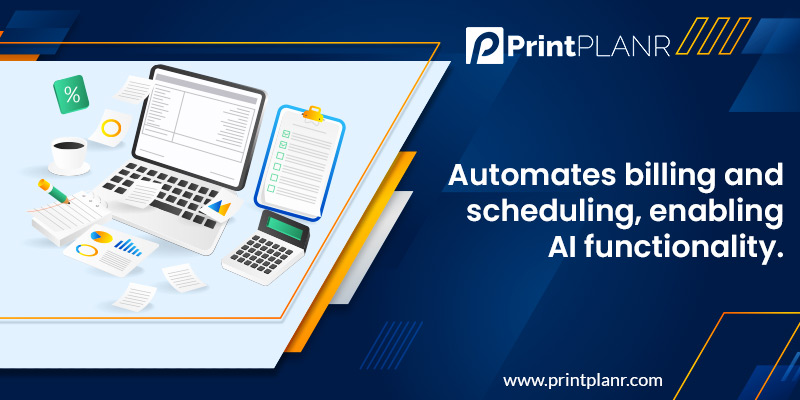 In today's emerging business trends, integration has become a critical component of business growth. PrintPLANR MIS software for the printing industry interfaces easily with necessary tools and software, such as design and e-commerce platforms.
We also have a client portal coupled with our comprehensive MIS software that allows clients to seek quotes, order online, fill up stock, generate reports, and re-order previous orders easily.
PrintPLANR MIS Software is connected with the world's premier accounting software, removing the need for dual manual entries.
Accessing real-time data and analytics is important for making well-informed decisions. You can easily get valuable insights into your operations, track job progress, and identify areas for improvement with PrintPLANR MIS software
multiple accounting, payment gateways, warehouse management systems, and other software via API, ensuring that your data is in real-time across all software.
The most common issue that people confront when they choose to migrate their software is data loss. PrintPLANR MIS software has overcome this difficulty and successfully transitioned the obsolete print MIS software to its sophisticated MIS software for numerous customers with no data loss. Our PrintPLANR MIS software has stringent criteria for data protection both for desktop and cloud versions.
Exceptional customer service
Our dedicated support team is always ready to assist you. Whether you need help with setup, training, or ongoing support, you can count on our team's expertise to ensure a smooth transition and long-term success.
PrintPLANR is adaptive to customer insights. We appreciate our customers' valuable insights to make our software more advanced and match the latest tech trends.
Staying ahead of the competition in the changing world of business requires flexibility, efficiency, and integration. If your existing MIS software falls short in these areas, it's time to upgrade to PrintPLANR MIS software.
PrintPLANR is the flagship product of Infomaze, has been in business for over 12 years, and is still growing strong. With constant development, we innovate new features to meet our customer requirements. We are a no-obligation consultancy where you can decide on migration only after a free demo and consultation with our expert team.
Want to know more about our MIS software? Want to transform your old print MIS software to an advanced version? You are in the right place! Get in touch with our team now to upgrade your print business and meet the ever-changing demands of your customers head-on. Don't let your old MIS hold back your growth!
---