Promotional Supply Chain Made Easy With Promodata Integration A Case Study
PrintPLANR recently integrated with Promodata
PrintPLANR, a cloud-based solution for printing and promotional companies, made managing their supply chain easier with the integration of Promodata. Promodata gathers product information from different suppliers and puts it in a single format. This helped companies get real-time pricing and stock details for promotional products. This integration saved time, reduced manual work, and made order processing much faster, benefiting both B2B and B2C customers. Overall, it improved efficiency and made things smoother for promotional companies.
In today's highly competitive business world, companies rely heavily on managing their supply chain efficiently to stay ahead. Promotional product companies often face challenges in making their supply chains smooth, especially when dealing with a diverse range of products and complex distribution networks.
PrintPLANR's integration with Promodata revolutionized supply chain management for printing and promotional businesses. This integration offers promotional companies an easy and fast way to receive supplier product catalogues, prices and stock information in real time. They made things easier by organizing information and making things automatic, it boosted efficiency and competitiveness, addressing the challenges of complex supply chains in today's competitive business landscape
PrintPLANR, a cloud-based Print MIS and customer-facing B2B and B2C portal is a one-stop comprehensive solution for Printers, Print Brokers and promotion companies. PrintPLANR has a global presence including many promotional companies in Australia and New Zealand. However, the biggest challenge for these companies was procuring supplier data, which was scattered across various sources and often outdated. To address this issue, PrintPLANR integrated with Promodata aggregator to get the suppliers' product catalogues and data from multiple suppliers.
Promodata takes products' information from various suppliers in different formats and converts it into a single, standardized format. This creates a consistent industry database of promotional product information. Using API technology, Promodata serves as the link between suppliers, distributors, and end-users. Distributors and Retailers can easily integrate suppliers' products with their websites and business management systems automatically through Promodata integration feature.
Note : Promodata is the brand or name of the system that gathers information about different products from various suppliers and puts it all together in one organized format.
Our customers, who primarily fulfil the promotional requirements of their end users, often find themselves spending time keeping their product information up to date by manually importing their suppliers' catalogues. This import process is repeated for every supplier they work with. More time spent on manual product data maintenance increases labor costs and eats into our customers' margins. A solution had to be found to automate this process as much as possible.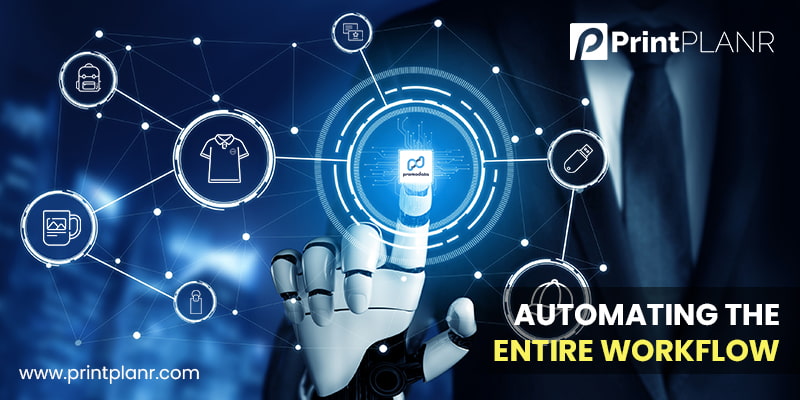 As with any automation requests, our team conducted their due diligence on the requirement, scoped out what is needed, and initially, PrintPLANR tested the connection with a few suppliers using the data offered by Promodata, and the results were promising. The system was modified to accommodate different data types from Promodata, and the solution was successfully delivered to the customer. This integration not only provided product information, pricing, and stock availability but also streamlined the process of sending purchase orders to suppliers directly.
Using this integration, our Web-to-Print solution to our customers for both corporate B2B and B2C got benefited.
B2C customers could request quotes, enabling clients to review requirements and offer competitive pricing. The quotes received from the Web-to-Print site seamlessly integrated into the MIS, eliminating double data entry and automating the entire workflow.
B2B customers can place orders directly for all the products listed by this supplier. This change has significantly saved time for PrintPLANR customers. Previously, orders were taken using a catalogue and sent to the customers, but now, they can be processed through a Web-to-Print portal, resulting in substantial time savings.
As a result of this integration, the customer's order processing, quote creation, and purchase order generation became five times faster than before. Outdated prices and unavailable stock are no longer a concern. B2C customers can now reach out to more retail and corporate customers for promotional item inquiries, making it an ideal solution, especially during the holiday season.
PrintPLANR has successfully integrated with other aggregator sites like SageConnect and Trends, in addition to Promodata. With access to over seventy promotional product suppliers across the world, including Australia, New Zealand, and the Oceania region, PrintPLANR ensures that clients benefit from real-time product lists, stock, and price information.
Promotional companies interested in similar services can get in touch with PrintPLANR's sales team to enable this feature. Existing customers are also encouraged to explore and utilize this integration.
To stay updated on important articles and future integrations, ensure your business stays at the forefront of efficiency and innovation.
---