Top Things Your Software for Promotional Products Industry Should Have
The software for promotional products industry has a complex supply chain that requires a more advanced level of adaptation and coordination than a typical ERP solution can provide. Over the decades, we have worked with top printing industries to meet their unique software requirements.
We understand that promotional products software should have standard features like easily integrating with the existing ordering portal, creating and modifying print designs, digitally managing customer information, creating B2B and B2C storefronts, handling purchase orders, Etc.
Due to endless options, software for the promotional products industry can be exciting. Suppose you need the perfect CRM software for the promotional products industry to handle promotional business and day-to-day tasks. In that case, PrintPLANR's promotional products software is a perfect choice.
What is PrintPLANR's CRM software for promotional products industry?
PrintPLANR offers an advanced Print CRM (Customer Relationship Management) solution, allowing the user to control every aspect of the business entirely. Print CRM offers a complete workflow to record, analyze and nurture leads and provide outstanding customer service, from acquiring leads and sending them quotes to converting them into customers.
A promotional products distributor software can be a profitable venture. Some top sellers are water bottles, t-shirts, calendars, business card holders, key chains, T-shirts, pens, notepads, coffee mugs, and more. It's an easy-to-use promotional management software built especially for suppliers and distributors.
PrintPLANR's software for promotional products industry can be easily integrated with any on-premise or cloud-based software, be it an accounting package, ERP systems, eCommerce solutions, or marketing tool that lets you handle your business wherever you are.
CRM software for promotional products industry provides all the functionality to run your print business, from sales orders, job management, quotes, estimation, and online ordering system, to a customizable dashboard and highly flexible dashboard, enabling you to customize its modules and functionality to match your needs.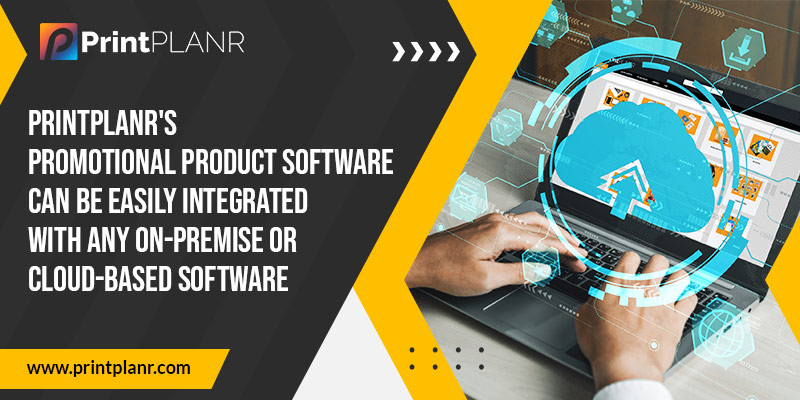 Things that promotional product management software should provide to achieve success in the print business
Should simplify your print business

Any modern software platform should be able to eliminate duplication of work and streamline your business process. And your chosen software for promotional products industry should simplify the process by combining disparate and varied systems into a one-stop solution for your whole print business.

Promotional products software provides a complete overview and the functionality to carry out essential tasks. It makes it convenient for the end-users to customize their orders rather than buying what everyone else requires or utilizes.

Should provide collaborations

In this modern digital evolution, its social software is here to stay for an extended period. The promotional products distributor software should have an inbuilt partnership developed to bring the supply chain together by collaborating with suppliers and distributors.

To solidify the future of our print industry, promotional product management software should offer a positive and hassle-free experience to end users and vice versa. The clients should provide better service by bringing a promo-buying process into their marketing strategy.

Should provide customization freedom

At present, there is a boom in technology as millennials are using social networks, smartphones, laptops, tablets, and email more so for any end-user to keep them engaged in buying your products or using your service, its vital to provide customization service to design, add, edit and personalize goods as per their needs.

Millennials are used to freedom and mobility in their home and workplace. If you don't provide customization, they will shift to software where they can personalize their goods. Your promotional products software should be equally accessible, ubiquitous, and efficiently used from anywhere.

Should provide accurate data

Modern CRM software for promotional products industry needs to focus on managing and providing accurate data in every aspect of print jobs, be it in sales, pricing, product data, quantity, customer data Etc. Access to data and serving accurate data to the customer is a valuable aspect of modern promotional software.

And in the organization, the admin managing all the customer data should provide access to everyone to access them in real-time for frequent updates, overall product improvements, and quicker product enhancements, which helps to provide better customer experiences.

Should be up-to-date with the latest technology trends

To stay relevant in this digital world, being up to date with the latest trends and tech is a must for all promotional businesses. It does not mean synching with the technological changes at the backend but delivering customized goods to consumers with the latest products.

Due to this, you can advance in the eCommerce business before it becomes outdated, and prospects buy your products or service if you have compelling, innovative ideas. Our promotional product software easily integrates into any eCommerce store and delivers custom features for signage, apparel, and promotional products.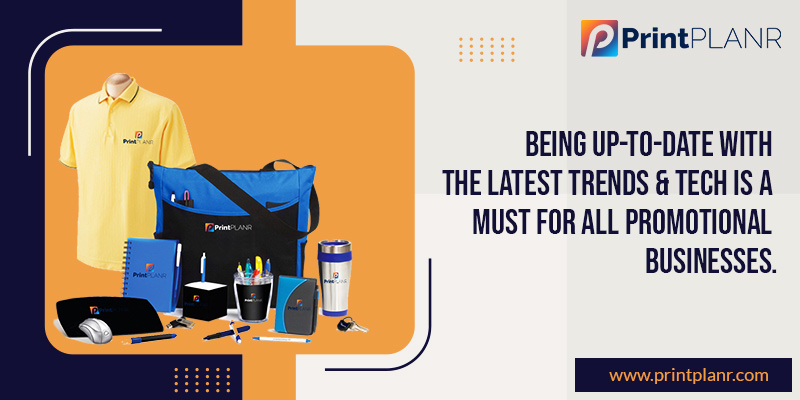 Should be cost-effective and user friendly

Consumers are willing to pay extra money if you proffer them something worth it, like product customization. Allow shoppers to design, add, edit, and delete their products, which is a cost-effective way to increase the enterprise's profitability.

However, most vendors are reluctant to implement customized products in their e-stores because of the expense of good software. But that is not true. Because setting up an online store is similar to setting up an eCommerce store.

Should influence better customer experience and loyalty

It's not just businesses that make use of transforming visitors into clients, but end-users also get a personalized experience and feel more recognized and welcomed. Thus, it will boost consumer conversion and traffic, eventually improving brand identity.

Shifting from mass production to customization can substantially influence promotional industries. Customer retention is crucial in building a brand image, and product customization are essential to reduce costs and enhance the efficiency of the eCommerce business.
There are numerous reasons why enterprises should choose to use promotional product management software for their print business. But PrintPLANR's promotional products software can save print industries money and time by automating tasks. It can also help to track and manage their inventory and ensure they use promotional products software efficiently and effectively. Get in touch today to assist your print business in making necessary adjustments and measure its promotional efforts' success cost-effectively.
---