Why do you need Print Management Software for your Print Business?
The print industry faces many challenges, and with the growing business, its management also gets complex. Poor management leads to losses in one's print business that can be averted with an efficient Print Information Management System (Print MIS).
The print industries succumb to problems without Print Management Software, including inter-departmental miscommunications, confusion in finalised designs approved by the client, delays in production and delivery due to missed/forgotten deadlines or appointments, insufficient staffing, to name a few.
If you are here, it means you know what print MIS software is and want to learn more about the benefits of print management software. But, for those in the print business who stumbled here looking to improve their print business, we also explain what print management software is briefly and its key features.
So, how does having print management software for your print business help to improve it? And why do you absolutely need to incorporate it into your print business? We have 10 reasons why you should, and we discuss them in the following section.
The 10 Reasons you need to Implement Print Management Solutions
The print industry involves a lot of business operations, and handling those processes using outdated, on-premises legacy software is not adequate anymore. To keep up with your competitors and get ahead and stand out, you need the current trends in technology, automation matched with a tenacious project management methodology that precisely suits your business.
Achieving the above target is possible with print management software built on the cloud, which can be readily implemented or customised to automate your print businesses.
We have worked closely with a printing company to understand their requirements and specifically build the print management solution; we know how customisation can positively affect your business with a thorough business operations analysis and the right integrations.
Using our extensive knowledge and experience so far, we listed the list of 10 reasons you should get Print Management software. The list goes as follows: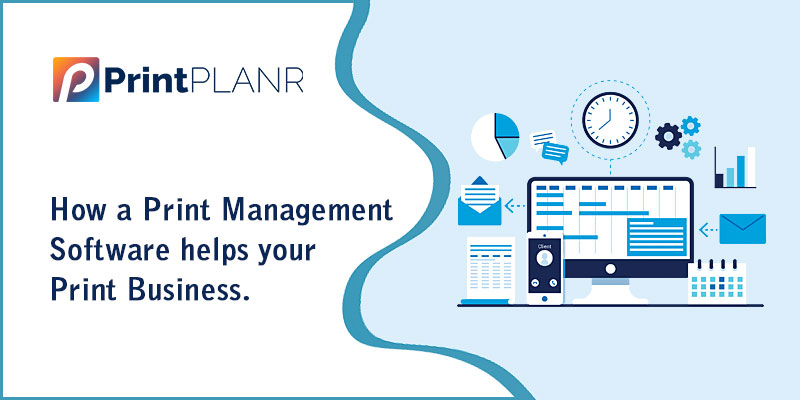 Accessibility:

Moving your print business to the cloud gives the advantage of cost savings, no hardware installation and provides anyone with secure access from anywhere and anytime with the proper credentials. With on-premises software, you are limited to accessing your management from a desktop where the software is installed.

Scalability:

Any efficient SaaS-based application should have the scalability to accommodate the company's requirements and growth. Future-proofing your print management solution with a cloud-based print MIS software developed on a platform whose architecture design is reliably consistent and easily manageable. With on-premises software, you need assistance expanding your hardware, and it is no longer cost-efficient.

Secure:

The benefits of print management software are only valuable if the solution is safe from all sorts of malware and securely connects to any third-party applications or networks. Your data remains secure, including client details, payment and accounting, shipping details and much more. As the SaaS provider maintains the print management solution proactively and with systematic upgrades, keep it secure; you do not have to worry about spending a lump sum on recruiting an in-house IT infrastructure and maintenance personal.

Functionality:

The print management solution should possess numerous feature-rich options to help manage the everyday workflow processes. The functions should meet the specific needs that address the print industry niche and work cost-efficiently. Without a print management solution with the functionality mentioned, the workforce energy and time spent puts the employees under stress and decrease productivity.

Enhanced Productivity:

The print management software helps automate everyday processes and aids in better planning and organising your print business. You improve workforce performance efficiency and overall productivity with better management that you get from the print management solution.

Insightful Reports:

The print management software is an enterprise resource planning and workflow management software that provides an insightful view into the vast data cluster it has to handle every day and helps make business-critical decisions. The more efficient and accurate the reports are, you get to make more effective business decisions.

Usage Tracking:

Every business must maintain its resources cautiously to avoid unwanted wastages and effectively use them. With print management software, you get an efficient inventory, job, purchase, and dispatch manager in sync in real-time, eliminating inter-departmental miscommunications and wastages. However, in on-premises systems, each department communications are delayed due to the dependency on emails and other forms of communications.

Improved Process:

As the print management software works and manages all the processes from a single platform, through integrations, the whole business process is simplified and resulting in more time to put to use for things that matter.

Customizations:

Getting customisations on the on-premises software is not impossible. But, it involves a complex process, unlike in cloud-based print management solutions. In a SaaS print management solution, getting customisations to fit the solution precisely to your business can be done in almost no time.

Integrations:

Most print management software has ready APIs built that connects to any third-party application. Many applications do not have APIs to connect to the legacy systems, resulting in an inefficient data environment, double data entries, and manual error-induced losses.
The above list is brief, and the benefits of print management software are not just limited and can be elaborated further. Have more questions?
---