7 Things About MIS Software For Printing Industry Your Boss Wants To Know
Print industry has its own challenges and meeting these challenges can be tough
With rising demands from customers, traditional methods of print management are not enough to stay ahead of the competition
You might need to make your boss understand the need for print management information system, which is why you must continue reading. Whether you business is a start-up, small-medium scale business or even a large enterprise, print MIS solutions are a necessity to get print jobs completed and delivered to the relevant client as planned.
The MIS software solution is your shortcut to quicker and better ROI than you have ever witnessed. Listed are a few advantages that your boss must understand about MIS Software for printing industry:
Accurate print estimates are automatically calculated based on inventory assigned to the job. These quotes can be then shared with customer in a PDF format. Once they approve (online), you can progress the quote to job in a single click.
Send multiple invoices of a job or a single invoice during or after job completion (depending on whether it's a one-time or a recurring job) to your client with the automated invoice manager module. Best print estimating software ensures that your customer is impressed in all ways so they stay affiliated for a long time.
Workflow Management & Jobs:
Streamline workflow, create user roles and assign different access permissions for security of business data with the print MIS software. Manage print jobs better by ensuring your staff works in sync. Modern job board allows handling multiple jobs at once.
Have an approval system in place – whether manual or automated as per your requirements. Reduce manpower and get error-free tasks carried out by printing industry management information system.
Online Design Studio:
Confusion is no longer in the air! Reduce multiple ups and downs to meet customer just to get their print design confirmed. Online Design Studio is a feature of the MIS software solution that lets customer edit print designs online and share it with you. You can further approve it before sending it to get printed, or reject the design.
Branded Stores – B2B and B2C:
The Web2Print module of the Print Management Information Software Have offer highly customized and unlimited B2B stores for your corporate customers. Create customized B2C stores with your own branding and effortlessly make an identity for yourself in the market.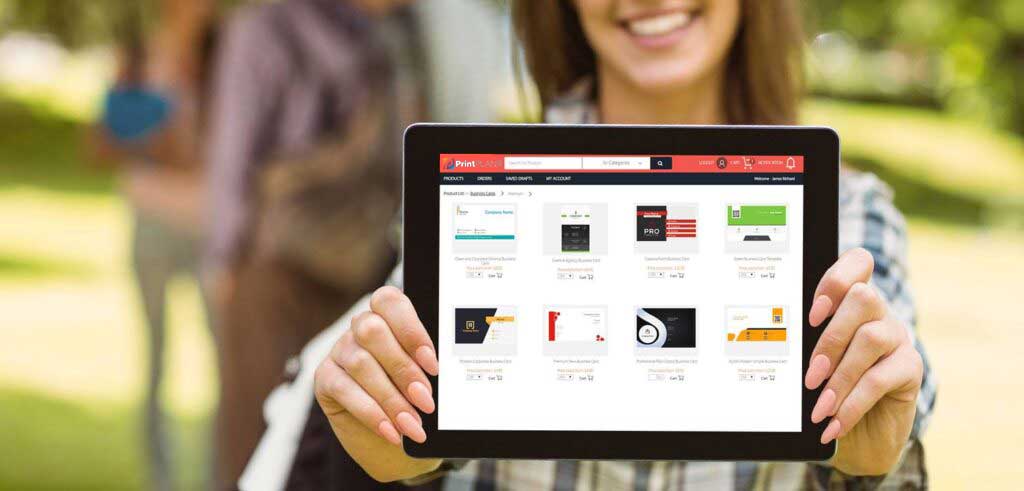 Reporting System:
Run system generated reports or generate your own reports. Save, print, share and do a lot more with the reporting system. Analyze the flow of your business by creating customized reports for any time period. The print MIS system pushes you to make best business decisions.
Advanced Dashboard with Analytics:
Customize your dashboard with various widgets to display your important business data in a snapshot. Find business analytics to figure out the performance of your team members and thus grow your business. With the comprehensive graphs and charts, anyone can read the updated values.
Centralized system shows updated information every time so that only informed decisions are made by authorized members of your business.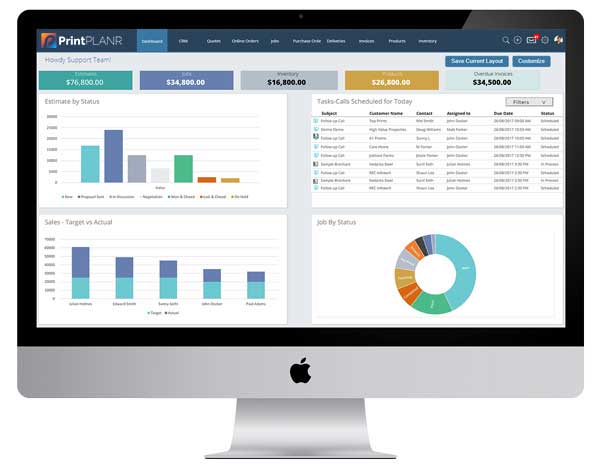 Customer Management:
Manage customers, prospects and suppliers in the same place with the MIS software for printing industry. Create follow up tasks/calls and assign it to preferred staff.
PrintPLANR has made its way up to a top printing industry management information system provider. Try it to know it.
---