Sign Estimating Software: PrintPLANR Makes Sign Printing Easy For Your Business
Revolutionize Your Print Estimation with PrintPLANR: Accelerating Speed, Accuracy, and Profitability
In the realm of print jobs estimation, speed plays a paramount role. Nowadays, clients have little tolerance for waiting, be it for a phone call or an email disclosing the cost of a graphics package or sign project. However, accuracy is just as vital. Failing to quote prices that accurately reflect the actual costs can swiftly spell the demise of your business. This is where PrintPLANR's exceptional sign estimating software comes into play, enabling you to enhance accuracy, speed, and profitability. By leveraging the right sign estimating software, you can streamline your printing processes, leading to increased profitability for your business.
PrintPLANR's software solution revolutionizes the way you estimate print jobs. It empowers you to generate precise and competitive quotes within minutes, significantly reducing the time spent on this task. As a result, your staff can focus on more crucial responsibilities rather than being bogged down by the tedious details required for quoting a job. This time-saving advantage not only enhances efficiency but also allows your team to dedicate their efforts to tasks that truly matter.
Furthermore, PrintPLANR's sign estimating software aids in keeping your operations organized and maximizing productivity. By centralizing and automating various aspects of your print estimation process, the software minimizes the risk of costly mistakes. It ensures that you have a comprehensive overview of your workflow, enabling you to optimize resource allocation and minimize wastage. With PrintPLANR, you can confidently navigate the intricacies of print job estimation while minimizing the potential pitfalls that could impact your bottom line.
The benefits of PrintPLANR's sign estimating software extend beyond internal operations. By enabling faster and more accurate quoting, the software significantly improves customer experience. Clients expect prompt responses and efficient service, and PrintPLANR helps you meet these expectations. You can now swiftly provide customers with precise quotes, keeping them informed about the cost and progress of their projects. Automatic email updates on job status and invoices enhance communication and reinforce your commitment to exceptional customer service.
Additionally, PrintPLANR offers valuable insights for informed decision-making. With its comprehensive reporting capabilities, the software provides you with a wealth of data on sales, marketing campaign success, and more. You can make data-driven decisions that shape the success of your sign shop. Moreover, PrintPLANR's integration with other modules, such as web-to-print software, creates a seamless end-to-end solution that further enhances efficiency and customer satisfaction.
Let's take a closer look at what PrintPLANR's sign estimating software offers: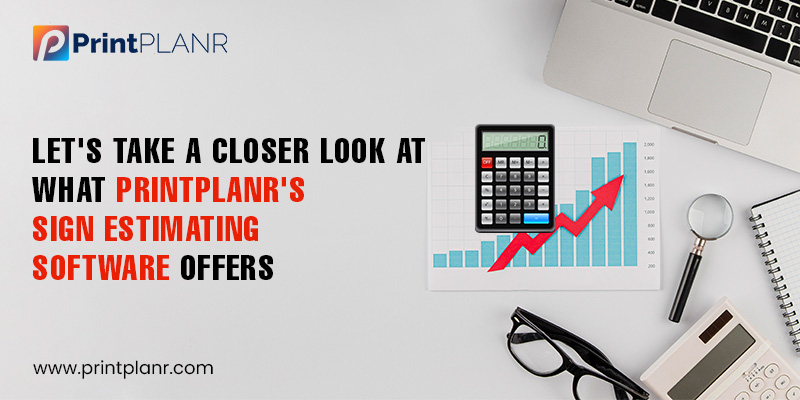 Diminished Labor Cost:

With a streamlined workflow powered by PrintPLANR, you can achieve higher production levels with less time spent on repetitive tasks. By optimizing your time and resources, you can significantly reduce labor costs while maintaining quality. This cost advantage allows you to offer more competitive bids and win more business without sacrificing profits.

Competitive Edge:

In the signage industry, where customers demand high-quality products at affordable prices, competition is fierce. By lowering your labor costs through efficient estimation and production management, you gain a competitive edge. This advantage enables you to offer attractive bids and secure more projects, all while maintaining profitability.

Increased Production Rate:

Manual job tracking using spreadsheets can severely limit your productivity. To succeed in today's market, your business needs to be scalable and driven by automation. PrintPLANR's advanced production management features enable you to handle larger workloads in the same amount of time without the need to increase your workforce. This scalability empowers your business to take on more projects and expand its capabilities.

Enhanced Customer Experience:

Customers expect businesses to provide excellent communication and prompt service. PrintPLANR's efficient sign estimating software allows you to complete jobs more efficiently and automatically send email updates on job status and invoices. By improving the customer experience, you increase client satisfaction, promote retention, and generate more repeat business.

Informed Business Decisions:

PrintPLANR provides an end-to-end Print MIS solution that delivers comprehensive insights into your business. The software offers extensive reporting capabilities, enables the creation of unlimited B2B storefronts for corporate customers and B2C stores for public customers, tracks marketing campaign success, integrates an online design studio, and facilitates invoicing. With access to this wealth of information, every business decision you make becomes data-driven, minimizing guesswork and optimizing the success of your sign shop.
Finding the best print estimating software is not an easy task. Many sign printers have experienced disappointment after setting up systems that failed to meet their expectations. These systems were either too complex, slow, or unable to adapt to evolving service offerings. If you're in search of digital print estimating software, PrintPLANR's sign estimating software is worth exploring. This cloud-based solution is customizable, fast, easy-to-use, flexible, and upgradeable. Moreover, it seamlessly integrates with PrintPLANR's web-to-print software module, offering a comprehensive solution for order tracking, online proofing, purchase orders, customer relationship management, and invoicing. To witness the capabilities of PrintPLANR firsthand, we encourage you to request a free demo. Discover how PrintPLANR can transform your sign shop.
---