Why Web To Print Storefront Solution Is Good For Your Multi Located Business
Handling any business is a challenge in itself. Managing a business in multiple locations is a challenging task. If you are a startup or established business with multiple locations, then b2b web-to-print multi-location studio management software can help your business.
Automation helps you handle this quickly, so your business outlook changes for the better! If you are managing distributed marketing or multiple franchises, a web2print storefront aids you in managing your print business workflow and materials, and orders and ensuring brand quality.
What is Web to Print Storefront?
Web-to-print storefront software automates workflow and decides how much your online presence matters. Whether you have multiple locations for your physical stores or just a single store, a web-to-print storefront will be a one-stop access for your customer.
The best web-to-print software to customize your storefront is cloud-based to suit your business and cater to your unique requirements. It also provides data security. Your business still fulfills all tasks but in a simple and stress-free way like never before.
Characteristics of Web to Print Storefront
Storefront online printing ensures that you don't have to waste prints and thus make the most out of your budget.
The online design studio is a part of the web-to-print storefront software that allows your customer to view and edit print orders before placing them.
Web To Print Storefront allows you to set up an approval system before the order is accepted. Alternatively, you can automate the approval process to save time.
Save money and limit your cash flow, as disapproved orders will never get to the printing phase.
With online storefront printing, only approved orders go through to printing, keeping your customer happy and thus yourself.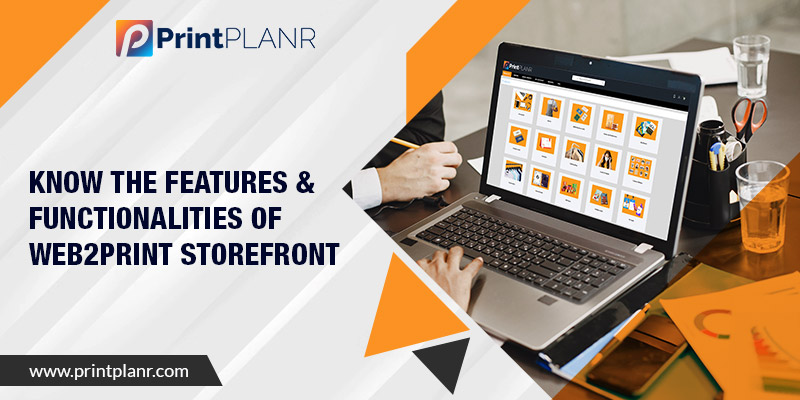 PrintPLANR is a complete print management information system that offers you web-to-print to create customized Web-to-print shop storefronts (B2C) and unlimited corporate storefronts (B2B).
Each B2B eStore can be separately created and customized to every unique B2B customer, such as their branding information and other preferences. Order on behalf of others; variable data is also included.
Manually settable B2B purchase limit lets your customer control purchases made from their office by staff members and helps cut down on unnecessary purchases.
Unlimited offers, discounts in the group order, and much more at no extra cost! PrintPLANR is a print solution meant for the modern printer.
The web-to-print shop storefront works excellently for all printers, including digital, promotional, signage, and print brokers.
Reasons to Choose Web to Print Storefront - A Print Management Service for Businesses
One-stop solution to automate your print workflow

A decade ago, customers used to physically go to a print shop and give orders to the print owner to get the work done because the printer takes only one at a time.

But implementing web to print storefront can support its customers throughout the process and provide an estimation of a particular print job. You can also order more hot-selling products through the web to print cloud dashboard.

Provide your prospects brand control to expand market reach

In this modern day of digital technology, where people can access everything from their fingertips, they would be much happier if they get complete control over their inventory, budget, and brand of their print jobs.

Web-to-print software is a SaaS cloud-based storefront solution with an excellent user interface designed and built with highly responsive, fast-loading features and SEO-friendly. Customers can efficiently order and reorder personalized print products anytime, anywhere.

Engage your customer by giving them customized options

Increase your sales pitch by creating value for your potential customers. Contact your prospects and show them how your web-to-print storefront works and simplify their print tasks without hassles.

Let the customers know they can control the platform at their fingertips, customize your designs and products, and get an estimation of their print jobs. By this, you will engage your customers and marketers for a long time.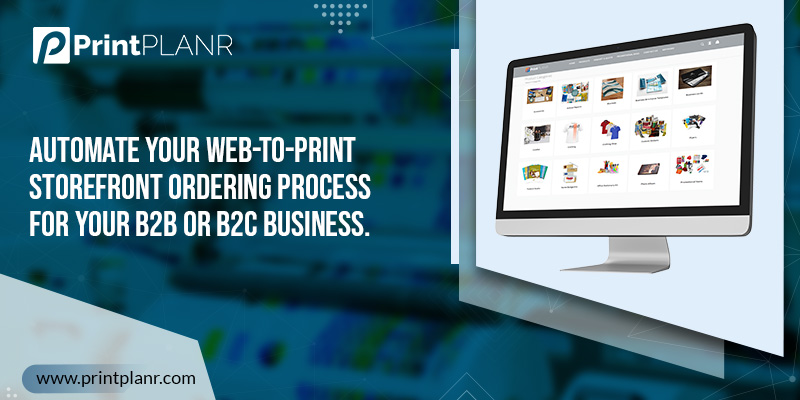 Get recurring orders by building trust among your customers

Your print shop storefront should provide more features or access to customize their products to your customers to sustain for a long time. Many printers have collaborated with potential customers for recurring orders.

A multi-location studio management software provides access for your potential customers to set up on-demand or ongoing print orders and allows you to capture print growth opportunities by transactional marketing or customized publishing.

Enables customers to personalized marketing

Customized products have a long history of success because they can yield excellent business results and revenue due to the advancement in printing technology. Web-to-print storefronts allow printers to enhance their print capabilities.

With personalized marketing, printers can obtain customized communications across high-value applications and allow your clients to manage their print procurement system with complete control access.

Enhance your business beyond print

The print shop storefront has many vital features, from on-demand marketing, fulfillment, customized products, and more, which help to grow your print business with increased ROI.

By implementing B2B web-to-print solution, printers are seeing a spike in their annual sales and gaining extra revenue by automating print workflows with an easy catalog, product browsing, and accurate estimation system.
If you want a highly classified and cost-effective print management system to automate your web-to-print storefront ordering process. In that case, PrintPLANR is a versatile print solution offered as modules and thus affordable by all print businesses, from startups to large enterprises.
Contact our friendly team today to learn more about our Web to Print software and services so we can help you with your next printing project. Schedule a meeting today!
---