T-Shirt Design Software: Benefits For E-commerce Business
T-shirt design software allows you to create customized designs for any accessories or clothing for the apparel industry, which can be accessed from the responsive site on a PC and Tablet with an active internet connection.
Initiating an online t-shirt printing business is the way to increase the sales of your apparel store. The business is too easy to set up and takes no time to be popular among competitors.
Suppose you have the capital, location, creative mind, and knowledge of design trends. In that case, you can easily set up online e-commerce or physical store to earn profit from both, which gives you a kickstart for your entrepreneurship venture.
PrintPLANR's eCommerce t-shirt design software helps you start selling customized t-shirts right from your home desk. It would help if you had a modern printer, a functional website, and an internet connection to build your brand by delivering high-quality tees at affordable prices.
Still, It would be best to know the complete guideline about the t-shirt designing app while starting an online t-shirt business store. Every right decision from the start will help to increase your brand visibility.
Let's go through the benefits of t-shirt printing software for online businesses to improve customer experience.
Benefits of Custom T-shirt Design Software for E-commerce Business
Explore a new strategy to sell t-shirts online

Businesses today prefer the best app to design t-shirts that comes with a simple integration feature. Earlier, it was an inconvenience for online/e-commerce stores to stock clothing to match the exact requirement of their shoppers by customizing them.

Nowadays, it would be best to incorporate t-shirt-making software, which delivers a wide range of product design options. Allows your shoppers to customize and design their artwork on their t-shirts with the help of PrintPLANR's t-shirt design software, eventually increasing your sales and gaining brand visibility.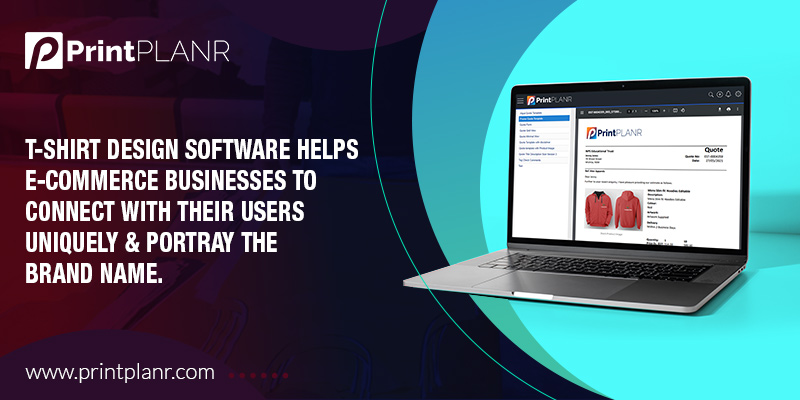 Shoppers can customize their own T-shirts

PrintPLANR's eCommerce t-shirt design software can access anywhere on any device with an active internet connection so customers can design, customize, and make changes to their apparel. And prospects would choose an e-commerce website that gives liberty to design and deliver products at cost-effective prices.

Shoppers today are not only picky but also very intelligent and innovative, so integrate your website with our t-shirt designing app. Our tool allows customers to design and personalize their apparel by adding colors, art, text, style, pattern, and more. If you need to increase your website traffic with potential customers and grow your base, provide liberty to customers.

Cater your eCommerce business according to customers' preferences

Make your business cater to customers' tastes and preferences by offering the liberty to design the t-shirt they like. Because in the e-commerce business, prospects are constantly searching on Google for the best app to design t-shirts, and it's the hottest trend, so if you need to stay afloat in the competitive market, you have to keep pace with the modern trends.

An E-commerce store can no longer follow old methodologies to their customer where the product design feature is increasing faster. PrintPLANR offers integration services to adapt t-shirt printing software to your e-commerce business and helps customers to design their t-shirts with ever-changing preferences.

Drive more potential buyers to your website

Potential customers are essential to the success of any eCommerce business and businesses in general. The sales and growth are interconnected to the visitors to your website. The more time end users spend on your website, the more traffic will increase, and the t-shirt-making software can potentially drive more shoppers to your store.

PrintPLANR's online design studio is essential if you want to add value to customers. You are not forcing prospects to buy t-shirts; instead, you are allowing them to create their own t-shirt design seamlessly.

Discover the true potential of your customer base

The T-shirt designing app is among the hottest trends in the eCommerce business, and to expand your customer base, you need to give liberty to shoppers to create templates, add colors, design, and customize the t-shirts of their will. This is the only way to perform your business better and gain brand visibility.

Prospects will be more interested in creating their own shirts rather than scrutinizing the internet and buying from the available stocks. When your eCommerce business offers something innovative like this, then your business will grow in no time just by spreading word-of-mouth furnishing free marketing.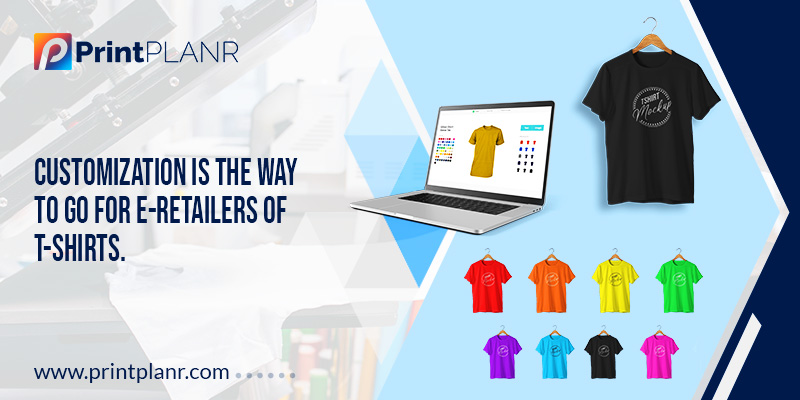 Stand out in the E-commerce apparel industry

Gain a competitve edge in the E-commerce business by providing state-of-the-art services allowing customers to customize designs for any products, be it t-shirts, bottles, mugs, caps, or any accessories. Withstand the competition in the e-commerce market by integrating t-shirt design software for your business.

If your business lacks resources and cannot withstand the competition, our eCommerce t-shirt design software will help online stores get the edge and find their track in the business. PrintPLANR's t-shirt-making software has all the functionalities and features with attractive UI to design their apparel effortlessly and increase your business ROI.

Providing customers an excellent value for money

As every business focuses on providing top-notch quality products for customers' money, it's vital to gain customers' trust by furnishing liberty to shoppers to design, customize and add anything to their apparel, regardless of size or quantity, making them satisfied and happy.

When the prospects are happy and satisfied, they will return for more designing and customizing their products and constantly look for benefits from your eCommerce stores. So remember, customers are king, and if they get excellent value for money, they will always pour more.
There are abundant opportunities for customized T-shirts, but the question is, are you ready for it? The main benefit is a dynamic and intuitive solution available in the market that helps capitalize and grow your eCommerce business. All you need to do is invest substantially into the proceedings to foray into personalized T-shirt printing.
PrintPLANR's T-shirt design software is suitable for B2B and B2C storefronts and unlimited add-ons and integrations per your business needs, including payment gateways, email campaigns, social media campaigns, inventory, accounting, shipping, and much more.
To get started, please schedule a meeting and share your eCommerce business requirements with our team, and we will get in touch with you with a working strategy that best serves your business necessities.
---