A Complete Guide to Know Everything About Web to Print
In the print industry, a lot has changed, and web-to-print may be the new popular buzzword you've heard recently. Even though it is not a newcomer to town, many people are unaware of its abilities.
Prints will always be valued, despite how much digitization occurs around us. Unlike conventional printing methods, which were time-consuming and required many people to maintain, printing has become online, rapid, accessible, and efficient due to particular tools and software, one of which is Web-to-Print.
Web-to-print software enables printers to work more quickly and effectively while improving customer satisfaction. It offers more than merely online shopping for clients and print solutions for companies. To appreciate web-to-print, you must first comprehend it. Let's gather information about it and see how it may benefit your company.
What exactly is web to print?
Web-to-print is an online commercial printing technique. It gives your eCommerce print service high-quality print-ready data to guarantee consistent print jobs. Other names for it include Web2Print, W2P, Print eCommerce, and Remote Publishing.
Printing enterprises all around the world use Web-to-Print software solution. It allows the users to purchase a product online by utilizing technology that creates a print-ready file that is transmitted straight to printing companies for manufacturing.
Web2print has various uses in marketing that helps you print various branding and advertising materials right at your fingertips. Some include flyers, posters, business cards, newsletters, and more.
In brief, this solution proves to be an affordable option that offers a comprehensive package for web-to-print b2b and web-to-print b2c companies seeking to meet various marketing objectives.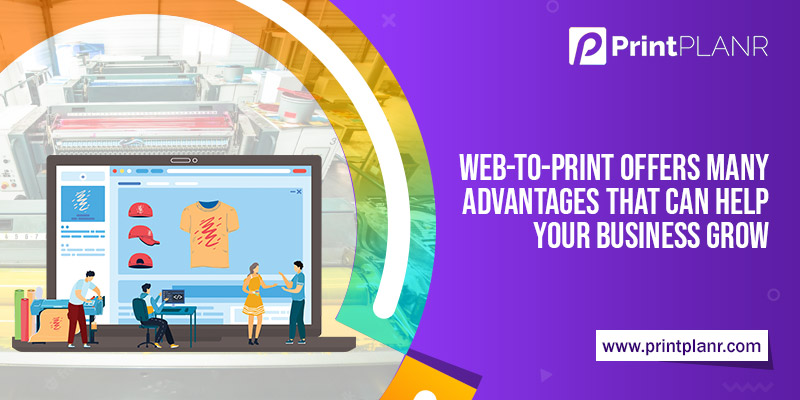 A web-to-print storefront is an electronic ordering platform accessed via a web browser. The customer can opt for the design from the pre-made branded templates from the digital printing library. Before the final order, the user has the provision to amend the material according to his requirements and finally send it to the printer. Depending on the solution provider, the user might pay before checkout or may be invoiced later. The whole process is dynamic and automized.
This facilitates personalization and customization. It's an excellent option for firms that print and reorder regularly.
The Benefits of Web2print
Higher degrees of increasing efficiency, enhanced uniformity, performance improvement, and maintaining brand identity is greatly simplified with a web-to-print solution. Let us dive in-depth into each of the merits that Web 2 print offers:
Brand coherence

Brand consistency is the key. Make your templates to ensure that all of your printed products are consistent. You can create and tailor your templates with customized designs and personalization.

Readily Accessible from any part of the world

All you require is your login credentials and a web browser to get started. This means you're not tied to a single area and may place orders from anywhere in the world. If needed, any prepress template may be changed at the last moment, and they will still arrive on time at the printer. This is also advantageous since many people may place orders if one is away from the workplace or busy with other responsibilities.

Digitized Order Process

The Web print software offers a straightforward and intuitive customer experience on a bright and engaging mobile-responsive platform from start to finish. By streamlining and digitizing the prepress and proofreading procedures, quicker turnaround times are possible. Furthermore, because of the system's comprehensive connectivity, all orders are processed, planned, and tracked automatically throughout the manufacturing process.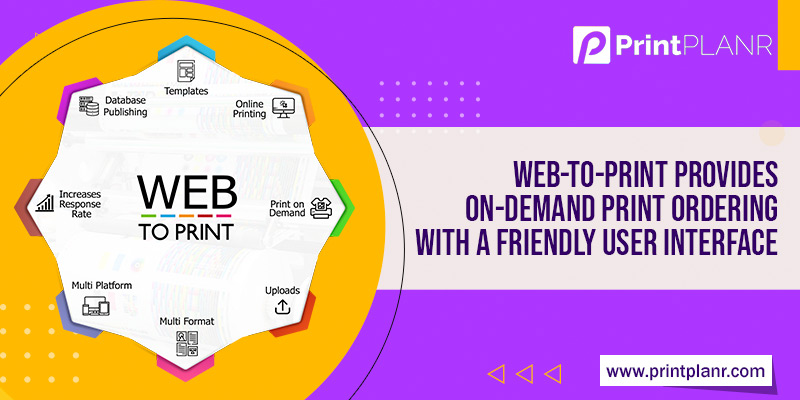 Saves Time and Money

Web2print storefront platform gives you the option of ordering on demand. This means ordering precisely what you want, whenever you need it, and choosing the exact amount of how much you need. You may save time and money by skipping some of the standard processes to place an order.

Flexible and Error Free

With the full extent and flexibility of the system, human intervention is minimized to reduce errors. Every product is inspected to guarantee that it can be delivered as ordered and that no printing issues will arise. You may also examine your prior orders with a single click if you need to reorder.
Web to Print is an ideal digital printing solution for businesses that need reprints but want to maintain a significant percentage of the original layout. Promotional materials, corporate stationery, advertising, Flyers, banners, posters, brochures, catalogs, and other printed materials are best printed with print management software, which also acts as a quick source of order production for commercial printers.
This technology is stealing the hearts of not only the web to print b2b storeowners but also the web to print b2c customers because of the personalization option that it offers, which is something that today's consumers desire. Choosing the appropriate web-to-print solution provider is critical since it may open the door to many opportunities and rewards.
Web-to-print provides all of the features you'll need to boost your online store's performance and improve your clients' entire purchasing experience. PrintPLANRis your one-stop solution to order your customized printing needs.
---