A Complete Guide to Know Everything About Web to Print
In the rapidly evolving print industry, web-to-print has emerged as a popular buzzword that has been garnering attention. While not a newcomer to the scene, many people are still unaware of its capabilities and the transformative impact it can have.
Despite the increasing digitization of various aspects of our lives, printed materials continue to hold significant value. However, traditional printing methods were often time-consuming and required the involvement of multiple individuals. The advent of web-to-print has revolutionized the printing process, making it online, rapid, accessible, and highly efficient, thanks to specialized tools and software.
Web-to-print software empowers printers to work more quickly and effectively while simultaneously enhancing customer satisfaction. It offers more than just an online shopping experience for clients and print solutions for companies. To truly grasp the potential of web-to-print, it's important to gain a comprehensive understanding of what it entails and how it can benefit your business. Let's delve into the details and explore the advantages it offers.
What exactly is web-to-print?
In essence, it is an online commercial printing technique that provides your eCommerce print service with high-quality, print-ready data to ensure consistent and reliable print jobs. It goes by various names, such as Web2Print, W2P, Print eCommerce, and Remote Publishing.
Web-to-print software solutions are utilized by printing enterprises worldwide. This technology enables users to purchase products online, utilizing advanced systems that generate print-ready files, which are then transmitted directly to printing companies for production. The applications of web-to-print in marketing are diverse, facilitating the printing of various branding and advertising materials with ease. Examples include flyers, posters, business cards, newsletters, and much more.
In summary, web-to-print represents an affordable option that offers a comprehensive package for both web-to-print B2B and web-to-print B2C companies, helping them meet a wide range of marketing objectives.
Now, let's delve into the operational process of web-to-print. A web-to-print storefront serves as an electronic ordering platform accessible through a web browser. Customers can choose from a selection of pre-made branded templates available in the digital printing library.
Before finalizing the order, users have the flexibility to modify the selected materials according to their specific requirements. Once the customization is complete, the order is sent directly to the printer. Depending on the solution provider, the user may make the payment before checkout or receive an invoice later. The entire process is dynamic and automated.
This level of personalization and customization is a key strength of web-to-print. It is particularly beneficial for businesses that frequently print and reorder materials, as it streamlines the process and ensures consistency.
Now let's explore the benefits that web-to-print offers in more detail: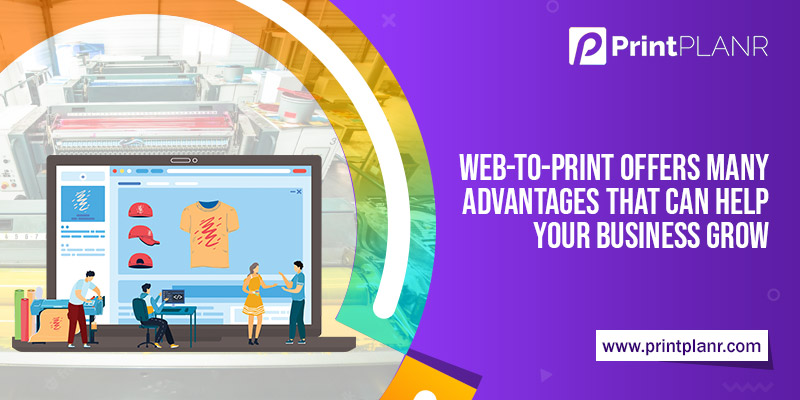 Brand Coherence

Maintaining brand consistency is crucial for businesses. Web-to-print allows you to create templates that ensure all your printed products are in line with your brand guidelines. These templates can be customized with personalized designs, ensuring a cohesive and professional appearance across all materials.

Readily Accessible

With web-to-print, all you need are your login credentials and a web browser to get started. This means you're not tied to a specific location and can place orders from anywhere in the world. If necessary, you can make last-minute changes to prepress templates, and they will still arrive at the printer on time. This flexibility is particularly advantageous for individuals who are away from the workplace or occupied with other responsibilities.

Digitized Order Process

Web-to-print software offers a straightforward and intuitive customer experience through a bright and engaging mobile-responsive platform, from start to finish. By streamlining and digitizing prepress and proofreading procedures, quicker turnaround times are achievable. Furthermore, the comprehensive connectivity of the system ensures that all orders are automatically processed, planned, and tracked throughout the manufacturing process.

Saves Time and Money

Web-to-print solutions offer several advantages that can save both time and money for businesses. One key benefit is the option of ordering on demand through a web-to-print storefront platform. This means you can order exactly what you need, whenever you need it, and choose the precise quantity required. By eliminating the need for traditional processes involved in placing an order, you can streamline the purchasing workflow and save valuable time and resources.

Flexible and Error Free

The flexibility and error-free nature of web-to-print systems also contribute to their cost-effectiveness. With the extensive capabilities and adaptability of these solutions, human intervention is minimized, reducing the chances of errors occurring during the printing process. Each product is carefully inspected to ensure that it matches the order specifications and to prevent any printing issues. Moreover, the system allows users to conveniently review their previous orders with a single click, facilitating easy reordering and further saving time.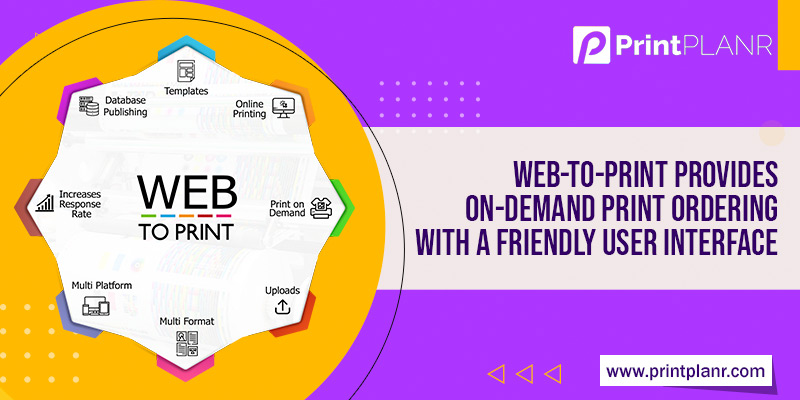 Web-to-print is an ideal digital printing solution for businesses that require reprints while maintaining a consistent layout. Whether it's promotional materials, corporate stationery, advertising materials, flyers, banners, posters, brochures, catalogs, or other printed items, web-to-print, coupled with print management software, provides a quick and efficient source for producing orders in commercial printing environments.
This technology has garnered significant attention from both web-to-print B2B store owners and B2C customers due to its personalization options, which align with the desires of today's consumers. The ability to customize printed materials according to individual preferences is a powerful selling point. Therefore, selecting the right web-to-print solution provider is crucial as it can open doors to numerous opportunities and rewards.
By embracing web-to-print, businesses can enhance their online store's performance and elevate the overall purchasing experience for clients. PrintPLANR, for instance, offers a comprehensive solution that caters to customized printing needs, serving as a one-stop platform for ordering various print materials.
Web-to-print solutions provide a range of features that contribute to time and cost savings while improving the efficiency of online stores and enhancing the customer experience. It has become a favored choice for businesses in the print industry, catering to the demands of today's consumers who seek personalized printing options. By harnessing the capabilities of web-to-print, businesses can unlock new opportunities for growth and success.
---